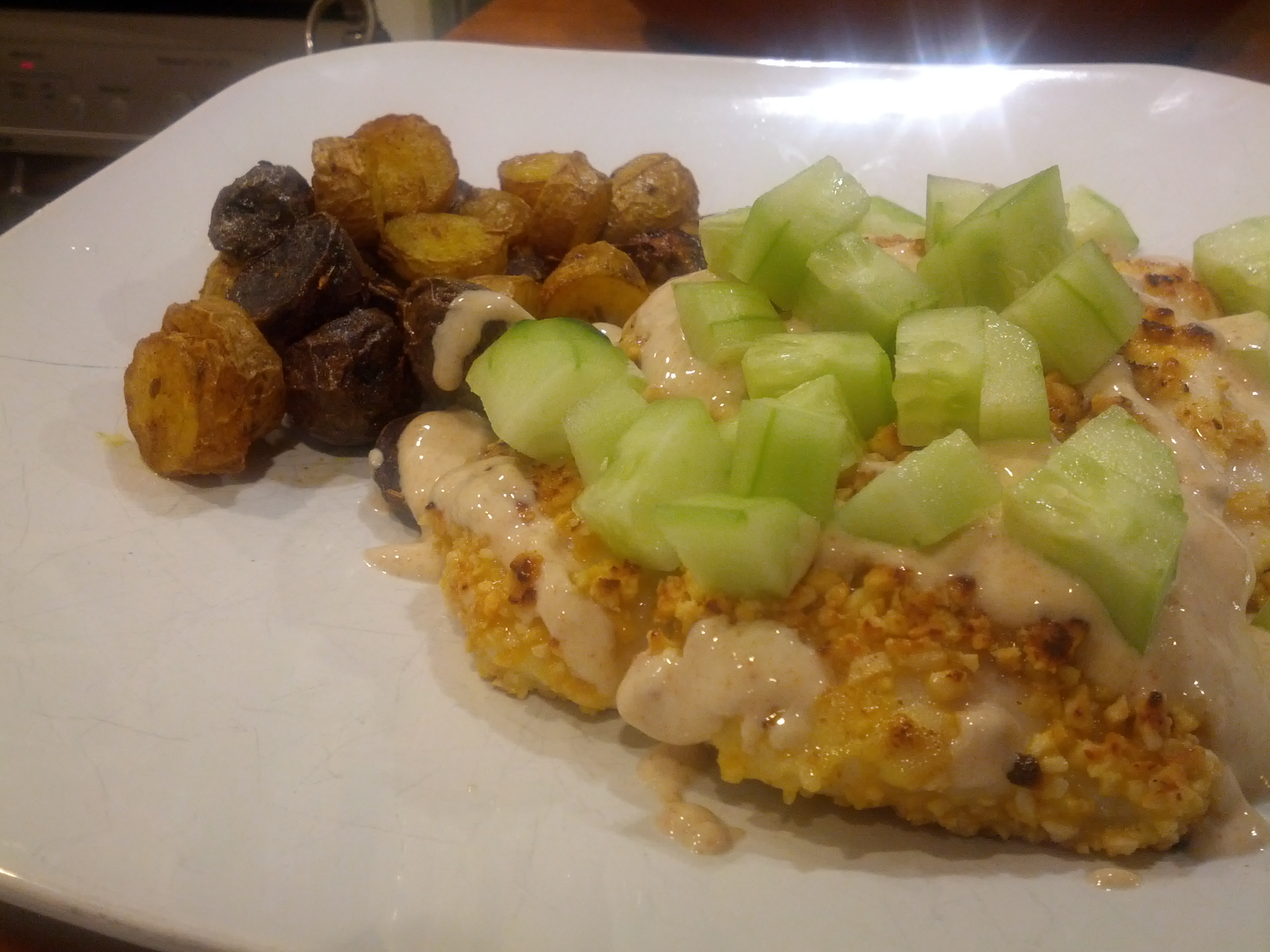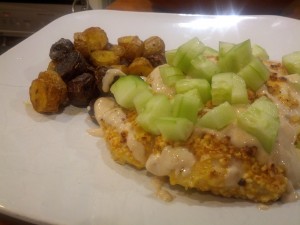 I haven't made Indian food in ages. When my son begs for mac-n-cheese…yes, my child who gobbles up raw oysters, serrano ham and ramen still begs for the one "kid" food he likes…I make him that and make something for my husband and I that I know my kid won't like. Usually Indian food.
I had just-caught petrale sole from my Seafood CSA. It was 6pm and I had no plan for dinner. I got out the fish and stared at it for a while. I wandered to the pantry and stared into it too. Potatoes…I have potatoes. I could make french fries for…what…fish and chips? No. CURRY!
I have this Penzey's ready-made curry powder that I rarely ever use. It's not really old, it doesn't taste like dust or anything yet, it's just not what I reach for first. But it's really quite good!
I cut up the potatoes and tossed them with olive oil, added some sliced shallots then added curry powder, cayenne and coriander seeds. Those went in the oven at 400° for about 45 minutes. Why do potatoes take soooo long?!?!?
For the fish, I drenched the fillets in egg yolk then dredged them in curry cashews. I don't know if your store's bulk section carries these but they are like crack. Curry cashews. Best snack ever. Simple. Awesome. I put a cup or 2 of them in the food processor and made curry cashew crumbs. After crusting the fish with the cashews I put it in a cast iron pan over medium-high heat for about 3 minutes per side or so. Long enough to cook the fish through but not burn the cashews. If the cashews start cooking too fast, lower the heat!
While those were cooking I took a cup or 2 of plain yogurt and added a tablespoon of coriander powder and 2 tablespoons of cumin plus some salt and some cayenne. And I diced a cucumber because I always want cucumber for the cooling of the spice with Indian food!
When everything was cooked I served it up with a spoonful of mango pickles (I prefer lime or lemon pickles but we're all out!).
I just about licked my plate clean, this turned out exactly like I envisioned it.