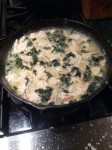 So the SuperBowl recipes are finally over with in the newsletters. Today's Epicurious recipe of the day was Skillet Chicken Pot Pie with Butternut Squash. Right off the bat I know that I won't be putting butternut squash in it since my son wouldn't eat it if I did. Oddly, it's all he would eat when he was a baby for at least 2 months but now he won't go near it. I headed to the store.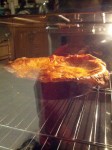 I couldn't find pearl onions. I've never seen frozen pearl onions…I thought that ingredient was odd. So I used 1/2 a white onion, chopped. I followed the rest of the recipe up to the squash and skipped that bit. I substituted 1/2 a cup of white wine for chicken stock so it ended up being 1/2 cup white wine and 2 1/2 cups chicken stock.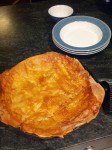 The other missing thing? Puff pastry dough. One, I think I'd rather use pie crust than puff pastry anyway but I couldn't find that and ended up with filo dough. It's sort of like eating paper but it tastes good :)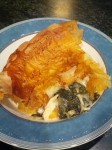 I had everything ready to go on the stove top and then discovered that my oven wasn't working. Luckily with the kitchen remodel we put in a second oven so I was saved. It has a rapid-pre-heat so I only lost 5 minutes. I wasn't sure if the filo would survive the time the recipe called for but I just turned it down to 375 a few minutes early.
If, I mean when, I make this again I want to make a biscuit top crust. I think that would make it even more comfort-foody.