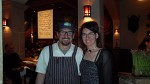 We had a full weekend of food, wine and no kid. He went skiing with a friend in Tahoe for the weekend. I don't think there was a time, aside from when I first woke up, that I wasn't full and/or a teeny bit tipsy. We didn't need to drive anywhere, we just needed to eat and drink. Friday night we had dinner at Central Kitchen. Saturday morning we slept in then walked down to the Ferry Building and had brunch at Marketbar. We wandered around Chinatown, walked back to our hotel, had a couple of gin and tonics in the bar, took a nap, then headed out for the next round!
I have a tremendous admiration for Chris Cosentino. He makes edible things which most people would go nowhere near. He's getting people excited about nose to tail cooking. He's elevating to gourmet levels things that most people cast away or at best use for stock. I just have one problem…I don't like offal or pieces-parts. At least none I've ever tried. Still, I wanted to eat Chris's cooking, I would just order everything from the middle edges of the pig rather than either end or the center ;-)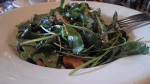 We had no trouble finding non-pieces-parts dishes. The arugula-feathercress salad was lovely. Our waitress was fun and knowledgable and just made the evening fun. She recommended wines that we may not have picked but went with each dish wonderfully.
One problem I kept having, I'd forget to take pictures! So, most of my shots are after I'd eaten some and messed up the presentation. *SIGH* But when the food is so good, you don't want to grab a camera, you want to grab a fork!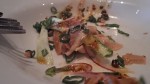 The PORK BELLY (Spicy pork belly, asparagus, scallions, pistachios, mint)! Oh good lord. Sooooo creamy and delicious. It looked like it would be fatty and greasy but it was pure pork heaven. Spicy from the pepper topping and … just damn good!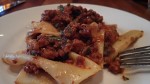 Handkerchief pasta and rustic pork ragu was comfort food. I wanted to take the plate to a fireplace with a blankie and my glass of Brunello. It was baby-it's-cold-outside kind of food. Comfort food like this is where the law of diminishing return goes out the window. More more more!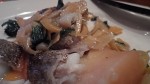 The cod was perfectly cooked with artichokes, potato and lemon. I had to talk my husband into this one since wine and artichokes don't mix but the Brachetto was nice with the dish actually.
The table next to us got the In-CAN-to dish which was tripe and trotters served tableside in a soup can. Really fun presentation and the woman said it was great. At one point I saw Chris expediting but also with his phone out. I slipped my phone out of my purse and checked and, yup, he was tweeting pics of the dishes as they went out. Our's didn't make the photo shoot!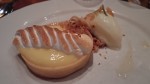 Dessert was the first lemon meringue pie that rivals my mom's. She set the bar high. Her lemon pie is amazing. They called this one a lemon curd torta but it was a lemon meringue pie with a shortbread crust. It's my perfect dessert. I love it. I didn't leave a crumb on that plate.
After we were done I asked our server if Chris was still around and available for me to play fangirl. Luckily he was. He came out, said hi and we chatted for probably longer than we should have kept him out of the kitchen but he was a gracious host. I felt like I was talking to an old friend and he seemed pretty convinced that I'd be eating offal sometime in the future. I'm not ruling anything out.