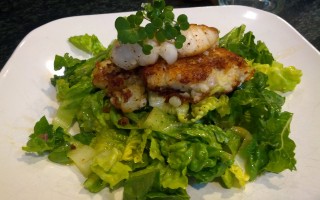 I'm touching on old favorites this week it seems. When I go back to my old recipes though, I've updated them or at least made them a little prettier!
Serves 2
1 lb Lingcod (it's blue!!)
Trim two nice little fillets out of the ling cod. Cutting out and discarding the bony area and trimming the thinner, uneven edges that will be used for the cod cakes. Set aside the fillets and cut the trimmings in to close-to-even-sized, 1-2 inch chunks. Poach these in white wine until they're cooked through. Strain.
Dice and saute until soft:
1 large shallot
1 celery
1 clove garlic, minced
Dice and boil until soft:
1/2lb peeled potatoes
Mush together the potatoes, shallot, celery, garlic and poached cod. Add salt. When cool enough to handle, form mixture into patties and pan fry in olive oil on high heat. Everything in the patties is cooked so you're going for a nice brown crust that holds everything together so don't touch them until they are awesomely brown or you'll get hash instead of cakes.
Carefully flip and repeat on the other side.
In the meantime, sear your pretty little fillets you carved out earlier. Just salt, pepper and high heat. Flip once. Get a nice brown crust on each side.
Plate: Salad (my caesar is just lemon juice, one garlic clove, 2 anchovy fillets, and olive oil), cod cakes, cod fillet, finishing salt.
I also added some sprouts to mine because I got a cool little window sprout garden for Mother's day. :)