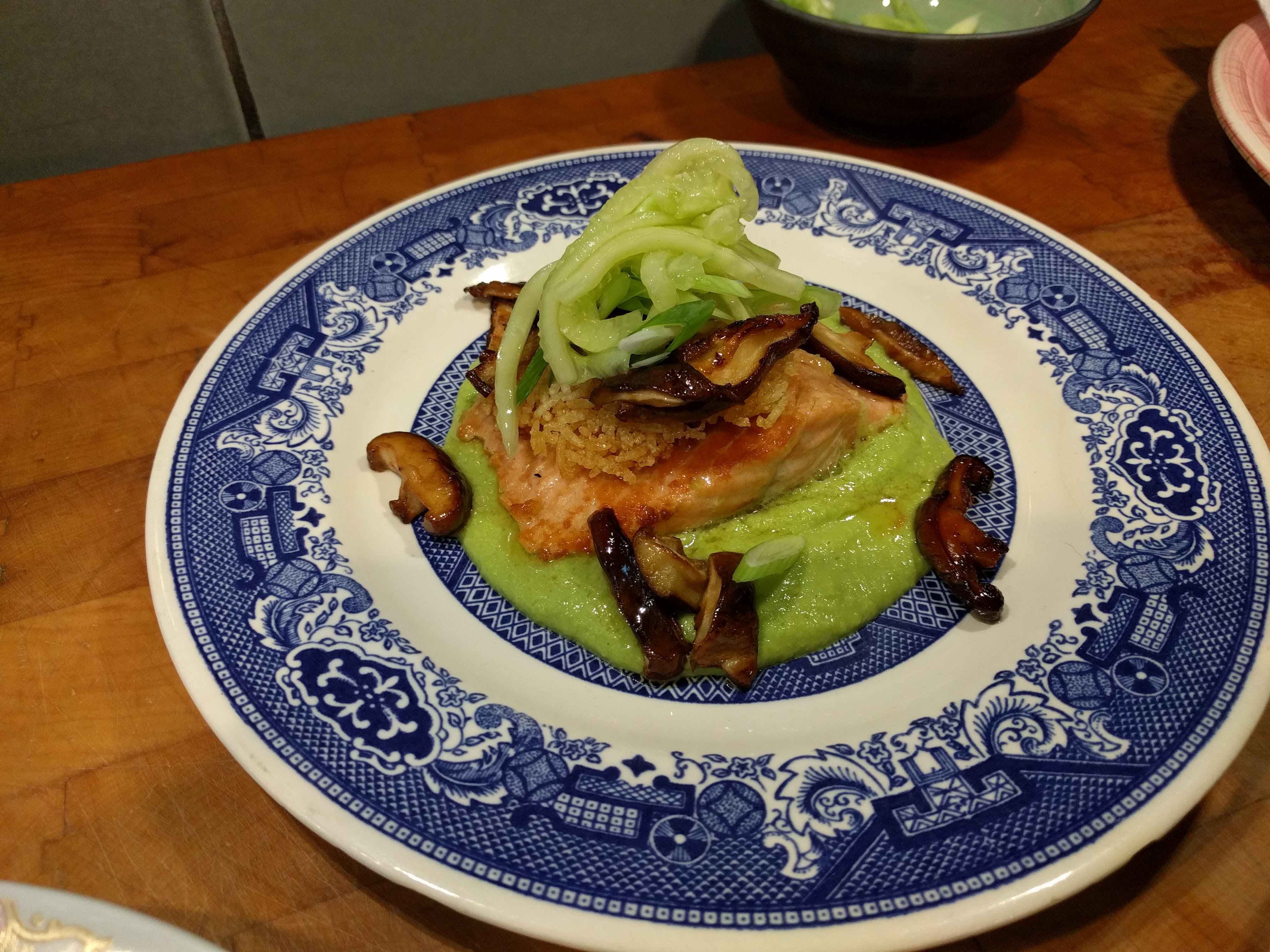 As usual, I didn't actually measure everything when I made this so I'm guessing at weights and measures below. I wanted to make sure I didn't forget about this dish though, it was really awesome. So I apologize, there's quite a bit of vaguery and improv to this one.
We had a bag of snow peas from the CSA that none of us were eating. I blanched them for 2 minutes then plunged them in cold water. I put lemon juice, olive oil, salt, and the peas in the blender and whipped them into a puree.
I sauteed sliced shiitakes in olive oil over medium-high heat with some soy sauce and some mirin.
I julienned some cucumber (seeds and all) and put a bunch of salt in it to make it a quick salt pickle.
I seared the trout in a hot cast iron skillet for a few minute on each side until it was almost cooked through but not quite…don't dry it out.
I had cooked rice in the fridge that i formed into as much of a patty as i could and pan-fried it in olive oil…once it's in the oil, you can't touch it until it's crisped up or it will fall apart. When it's browned, flip and brown the other side.
To plate, spoon a blob of the pea puree and spread it around. Place a piece of the fish on top. Put a rice cake and some shiitakes over the fish then top with green onions and some of the quick cucumber pickle (with as much of the liquid squeezed out as possible).
Enjoy!
Pea puree:
~1/2 lb snow peas
shallot
lemon juice
salt
olive oil
~1/2 lb shiitakes
1-2 T. soy sauce
1-2 T. mirin
1 lb steelhead trout or salmon filet
Cooked rice
1/2 cucumber, julienned
Salt
Green onions