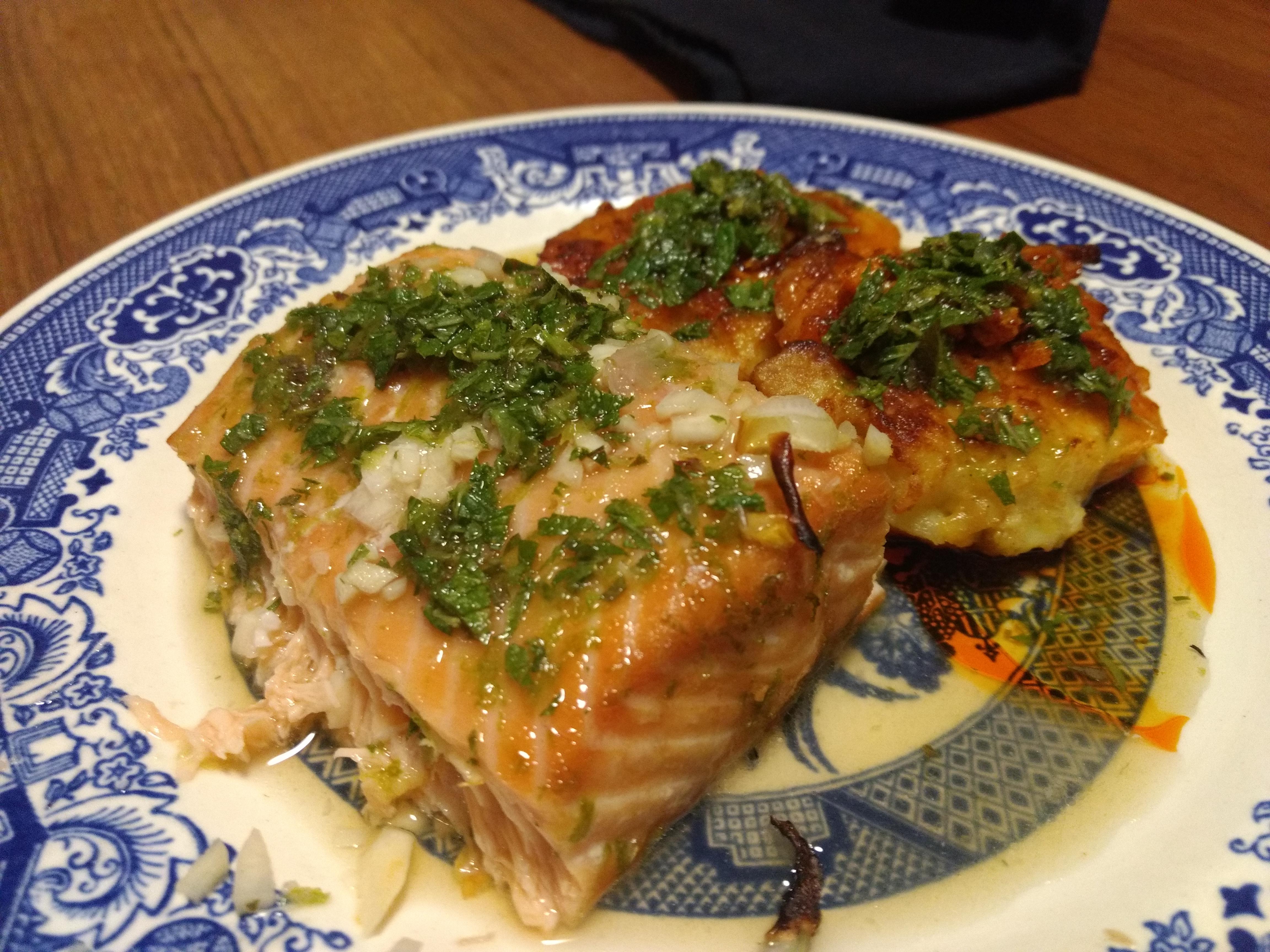 I made a grilled salmon recipe from the Paley's Place cookbook a couple of months ago for a dinner party we had. The original recipe uses brown sugar, orange zest, salt, onion, garlic and basil. I took the same idea but with a Vietnamese flavor profile. In the end it was a completely different recipe but I got there via one of my favorite Portland haunts.


1lb salmon, skin on, thick fillet
1/8 c brown sugar
1T salt
zest of 2 limes
Rub salmon with mix sugar/salt/zest mixture, cover and refrigerate for 2-3 hours, skin side up.
1/4 c lime juice
1/4 c fish sauce
1/2 c chopped fresh mint
1T soy sauce (or usukuchi)
1T brown sugar
Mix ingredients together and let sit while grilling.
1 large onion, sliced into thick rounds
1T minced garlic
1 lemon or 2 limes, sliced into 1/8″ rounds
1/2 c sliced shallots (or onion)
Get a good bed of coals going. Instead of a cedar plank, grill the salmon on top of the thickly sliced onion. It keeps the fish from burning, imparts flavor, and helps steam the fish through.
Place the slices of onion on the grill in roughly the shape of your fillet. Put the salmon fillet on top, skin side down. You won't be flipping it. Cover the salmon with the garlic, lemon or lime slices, and then all the shallots. Again, locking in the moisture to help steam the fish through.
Close the grill and let salmon cook until the internal temp is 125°. 10-15 minutes depending on the thickness of your fillet.
Remove fish from the grill. I've also taken the lemon slices and put those on the grill to char them as a bonus ingredient. Spoon the lime/mint sauce all over the top of the salmon. To make it even better, top with Chili oil with crunchy garlic.
The side I made that was my favorite was out of leftover "cabin potatoes" from the night before.
Cabin potatoes
3 large yukon gold potatoes, cubed
1/2 onion, sliced into 1/2 moons
1/2 stick of butter, sliced into pats
Salt
Put all that in foil and on the grill until cooked through. Mash up, add an egg, form into patties and fry in olive oil until crispy.
Top that with the lime/mint sauce and the crispy garlic too!