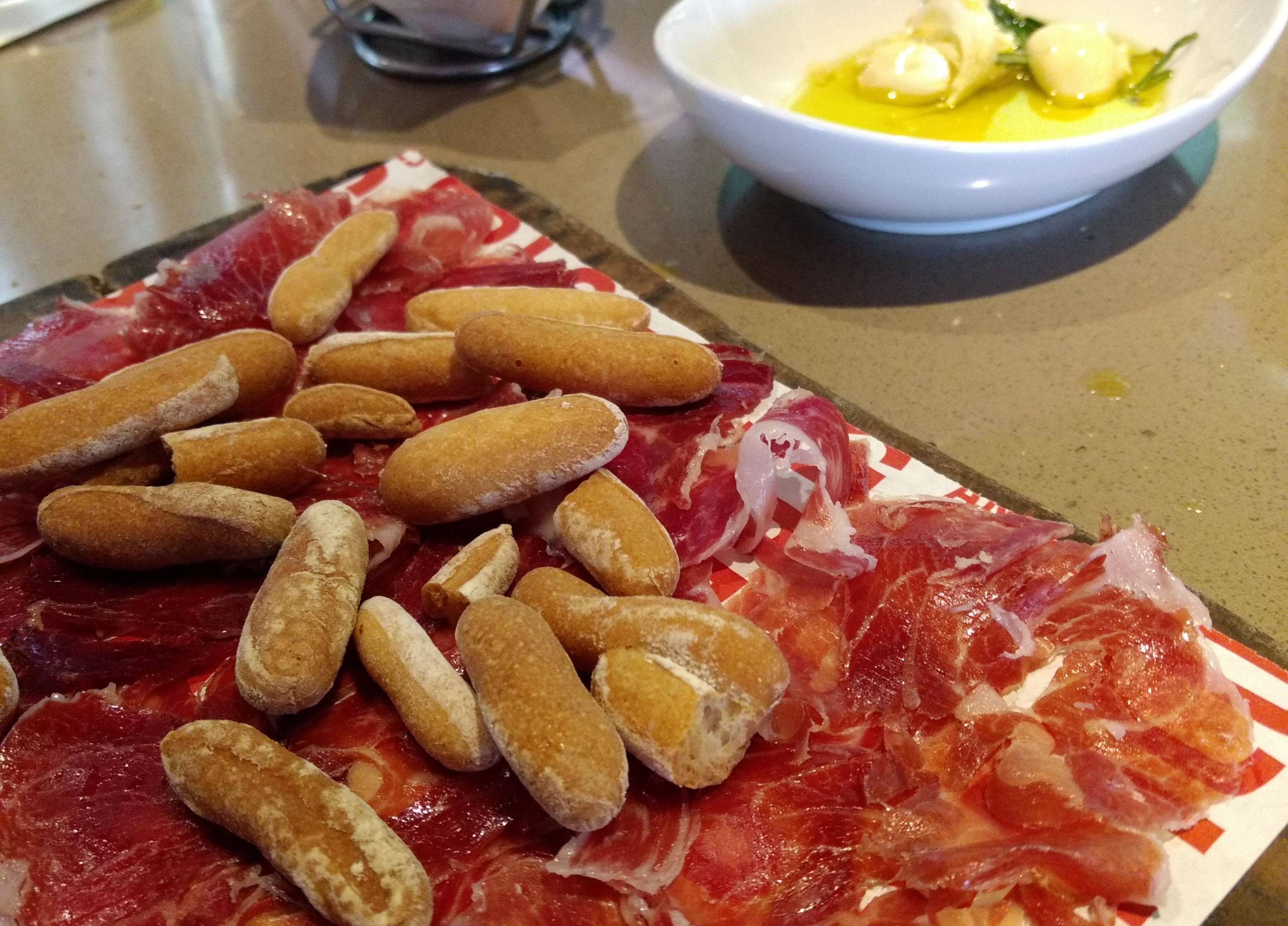 Jaleo
480 7th St NW
Washington, DC 20004
202-628-7949
The occasion for my visit to DC was a somber one. My uncle passed away in November and he was finally able to be buried in Arlington National Cemetery. He was a 30 year Coast Guard veteran and the ceremony was incredible, beautiful and he earned every second of honor they bestowed upon him.


We only had one day for sightseeing on this quick trip but because I'm me, the only sightseeing I actually planned or booked was not the Smithsonian or a capitol tour but lunch at a Jose Andres property. It's DC! Who else would I have cook for me?!
I had a 12:30 reservation but we were walking all over the National Mall and I didn't want to worry about rushing to a reso at a specific time so I cancelled thinking we would just wing it. We walked and walked and walked, me and my 77 year old mom in, I kid you not, gale force winds! There was a warning issued that morning. It was crazy. It seemed no matter what direction we walked, we had 30-40mph winds in our faces. It was exhausting.


Then it got cold. We were getting tired and hungry. We ducked into the Smithsonian Castle information center, used the restroom, sheltered from the wind and called a Lyft! We headed to Jaleo and got there at 12:40. Guess I could have made that reservation afterall! I think their lunch menu may be the best kept secret in DC: $20 for 4 courses! $25 if you want sangria, which I did–DUH!
I couldn't come to a Jose restaurant and not get the Jamon Iberico so we started with that. It doubled the cost of lunch but it was well worth it. Served with crunchy little croutons and at the same time as their bread with absolutely heavenly olive oil, it was a wonderful start and made us start to forget about the wind.


My mom and I each wanted 2 things from the list of choices so we got both and shared. We began with patatas bravas and sopa del dia. The soup was a silky smooth fennel that I think was mostly cream and butter. Divine. The potatoes were good but there were so many that we only ate about a quarter of them. They would have filled us up and we had a long way to go in the meal!
The sietas al ajilio and croquetas pollo came next. I'm not usually a fan of button mushrooms, I'm partial to the ones I find in the woods, but if you smother them in enough garlic then apparently I'll eat every last one! The fritters were not what I expected. They were almost like breaded and fried chicken salad….no, that sounds gross. Chicken salad made mostly of butter. I think that sounds worse. Imagine mozzarella sticks that are made of chicken and butter. I am NOT describing this well. Just go order them. Trust me.


Third course: gambas and pollo al ajillo con salsa verde. I think the shrimp was my least favorite of the lunch. It was fine and I liked getting it because my husband has stopped liking shrimp for some unknown reason and I rarely get to eat it anymore. They were garlicky and buttery (detecting a theme?) but nothing write home about–or fly east for. The chicken thighs though, I enjoyed every bite with their parsley puree and garlic. Super tasty.
We hit a little hiccup with the dessert ordering. First they said they had one type of ice cream and sorbet. Then they said they actually had coffee ice cream which sounded awesome. Then by the time we got to dessert it was almond ice cream (gag!) and cherry sorbet. I don't usually like cherry desserts because of childhood cough syrup, but luckily this was just fresh cherry sorbet, no cooking it into cough-syrup-ness. Refreshing and wonderful.


We ventured back out to the mall and the WIND!!!!! We didn't realize by Lyft-ing to the restaurant that we hadn't actually gained any ground on our walk. When we got back to the mall, we were exactly where we'd left off, by the carousel. We walked headfirst into 35mph wind all the way to the Lincoln Memorial. It really is breathtaking to see all the iconic buildings, statues and memorials in our nationals capital. Given the current administration, it's nice to be able to appreciate the beauty.

We were leaving at 5pm on Wednesday so we had most of that day to spend on one activity. We went to the Newseum which was moving, emotional, and incredible. I highly recommend a visit. We had about 3 hours and it wasn't enough time. Then we had about a 30 minute window to eat. We walked by food trucks that looked awful then realized we were a block from Jaleo. We went back! They said they could get us in and out in 30 minutes if we sat at the bar. We got another plate of jamon iberico and also iberico sandwiches. We both ate half our sandwich and wrapped up the other half for the plane. I got a gin and tonic sphere which was truly freaking bizarre and then we dashed off to check out of our hotel and catch our flight.


I'd like to go back to DC with my husband and son and have a good week, minimum, to explore. There are so many museums and tours to take advantage of. And so many Jose restaurants to eat at!!!