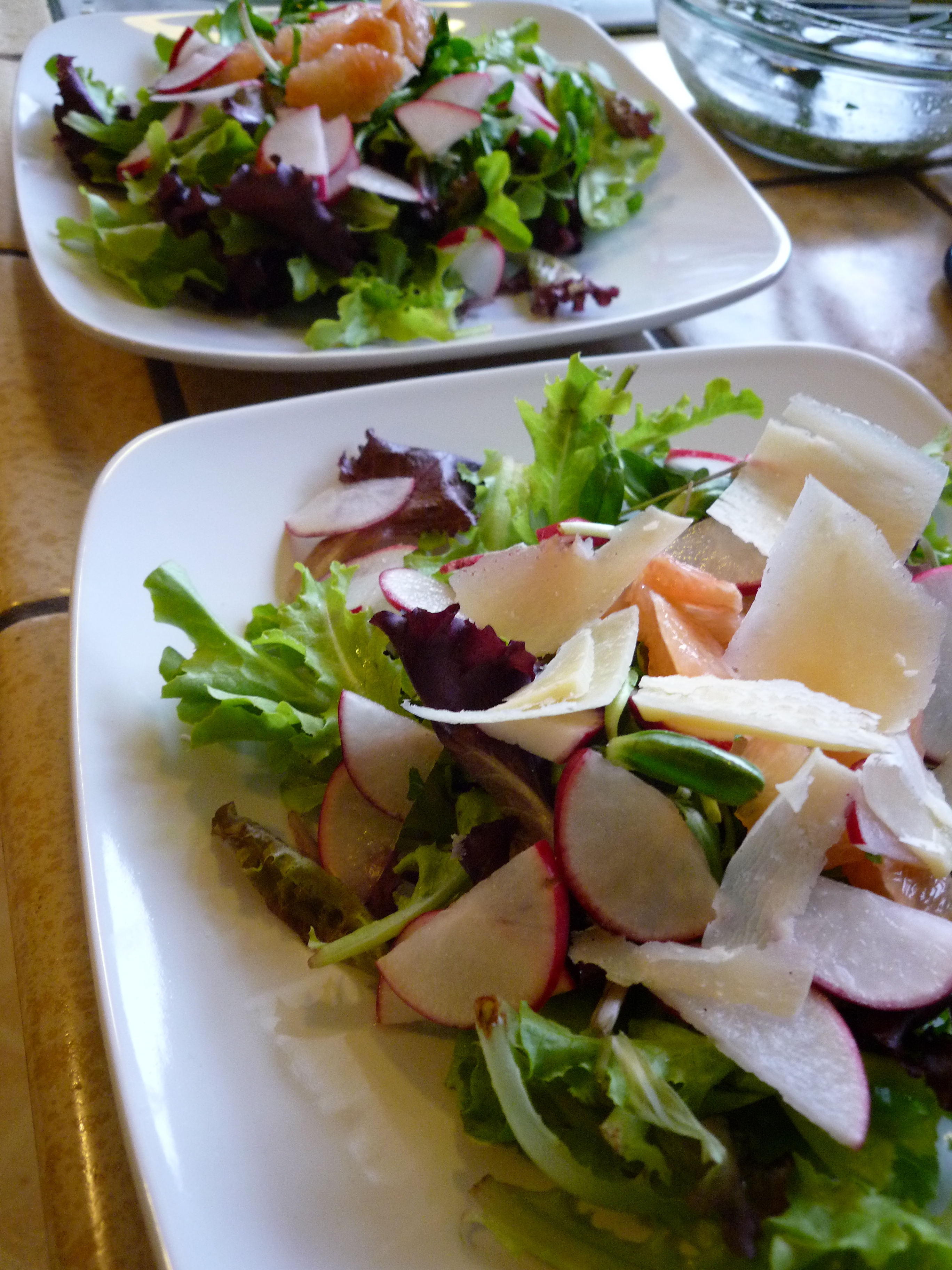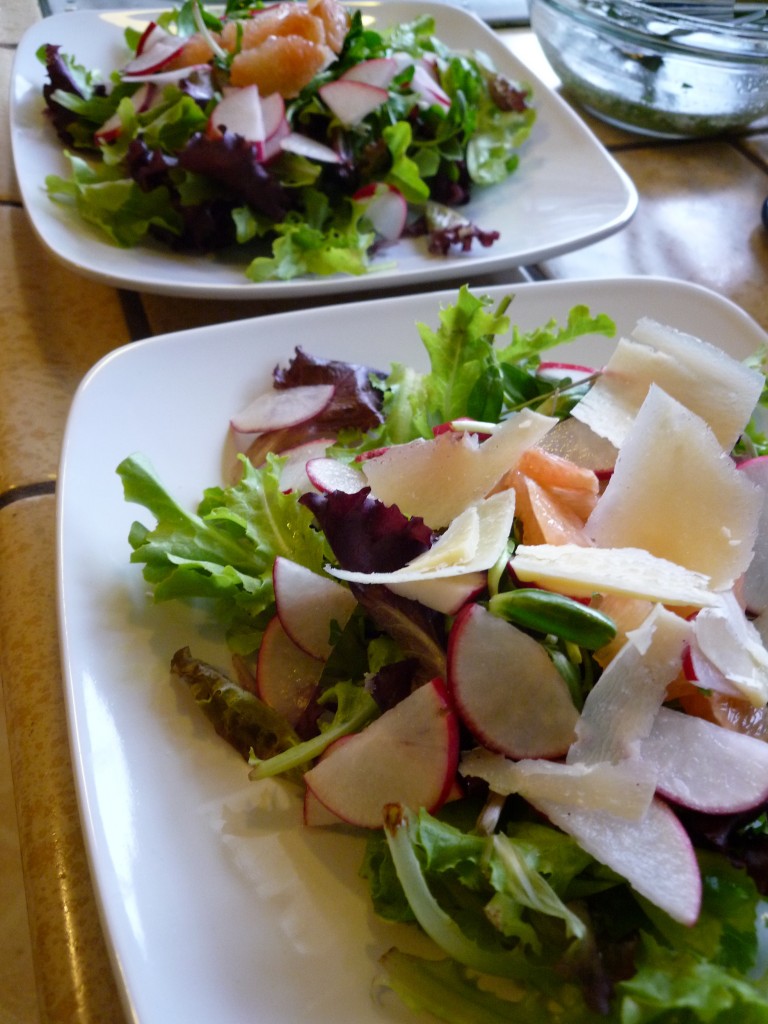 Mixed spring greens salad:
Mixed spring greens (duh!)
1/2 grapefruit per dish (segmented and sliced)
3 radishes per dish
Parmigiano-Reggiano slices
Dressing:
1 shallot
Juice from 1 lemon
1 T orange juice
1 T grapefruit juice
1 T parsley
salt & pepper
~1/4c olive oil (I never measure this, just whisk until it looks and tastes right)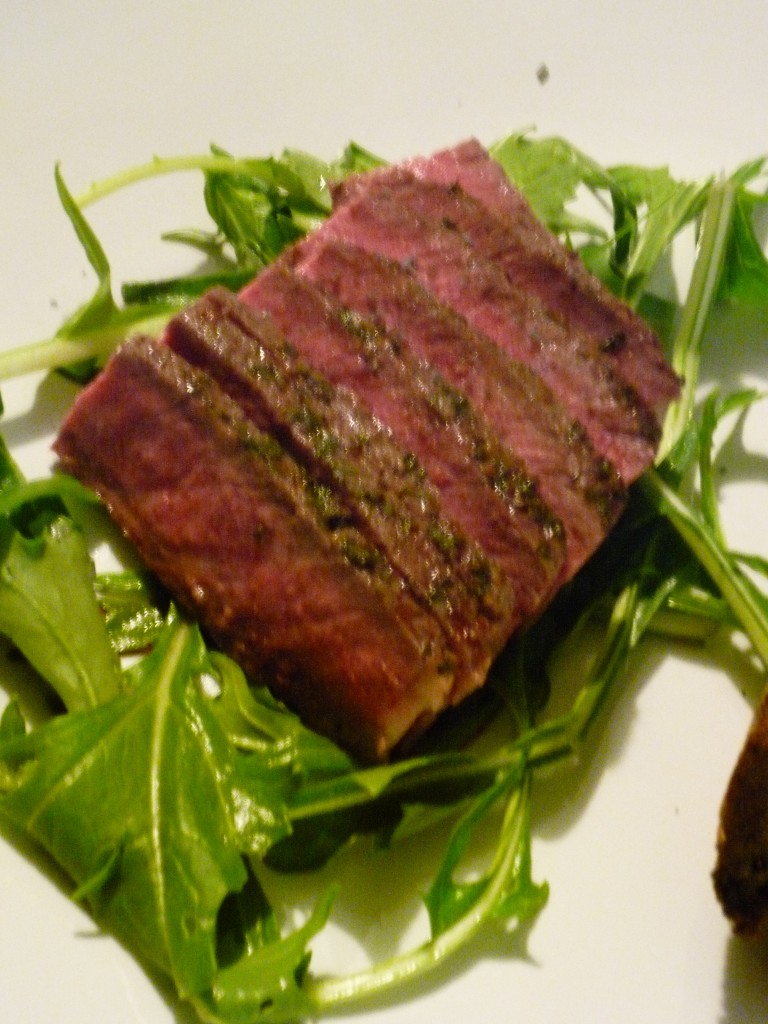 This is a scaled down version of the New York Strip Loin I made in December…you know, if you're not cooking for 20 people!!
Chop enough herbs to moderately cover your steaks. For 2 ribeyes, I had about 1/2-3/4c herbs total. I use marjoram and thyme with a clove of garlic minced in. I'd say 1 clove for every 2 steaks. Rub the steaks w/ the herbs, pour olive oil over them to coat, cover them and set aside. If you have a lot of time, put them in the fridge. But you want the steaks at room temperature when you cook them.
Time to cook?! Heat a large skillet (large enough for you steaks and oven proof!) to really hot. Put your steaks in…you don't need oil in the pan because your steaks are covered in it. Sear them until they have a nice brown on each side. Put them in a 425° oven until it reaches your desired doneness. I like rare meat so I cooked them until the internal temp was 125°. Remove from oven, place on a cutting board and loosely cover with foil. Leave them alone for at least 10 minutes.
If you want this to look purty, trim and thinly slice the steak and place over some greens. If you just want to chow down, gnaw on the cow-piece whole ;-)
Enjoy!