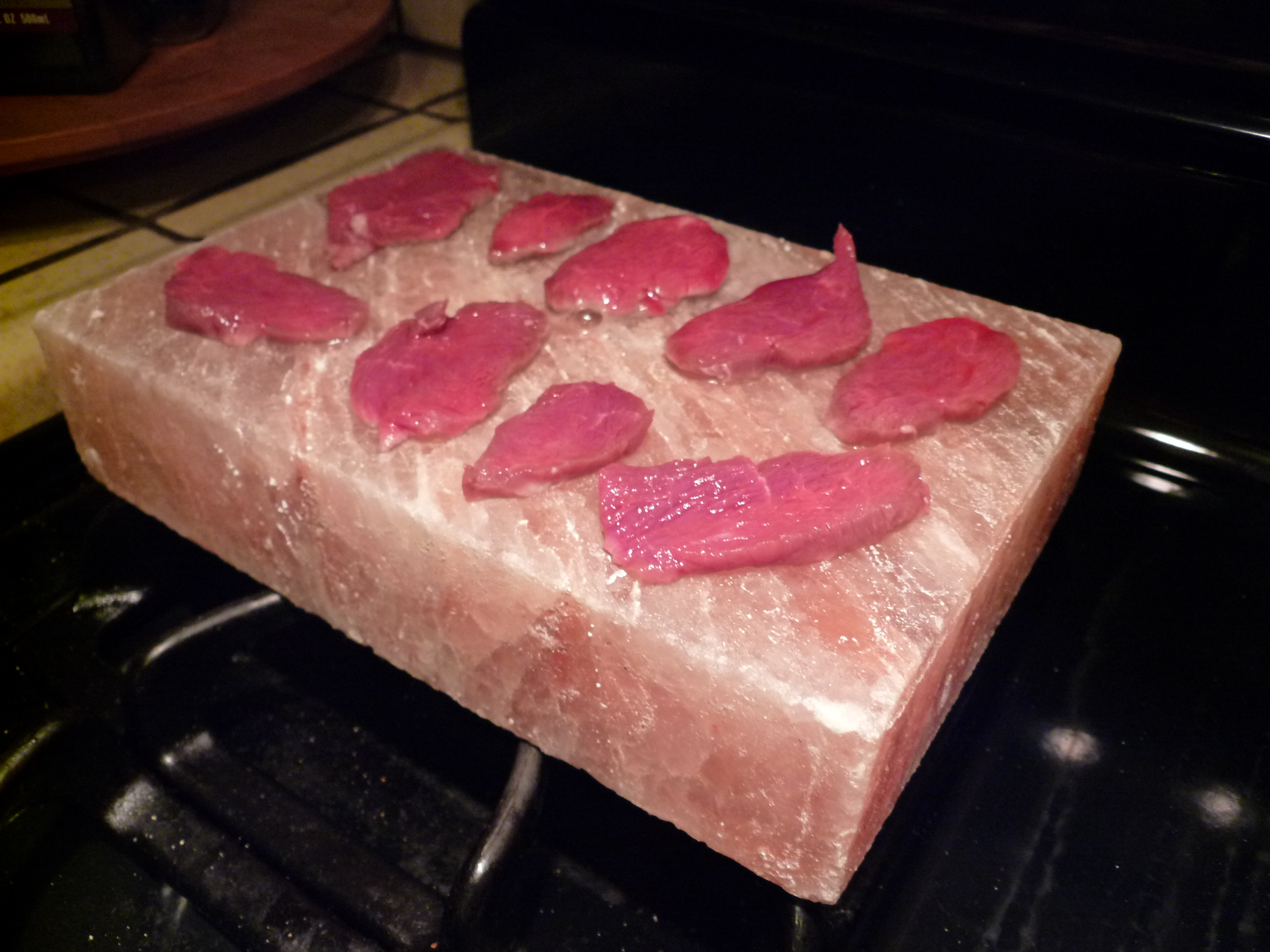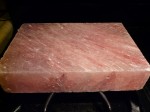 First things first…this was totally cool and fun!! We actually started discussing putting some sort of exhaust fan over our dining room table so we could do this at the table rather than in the kitchen. Next time we'll do it outside instead so everyone can participate and cook their own food on the block. This time was an experiment (a successful one!) and I manned the salt block "grill" in the kitchen.
I slowly heated the salt according to the instructions from The Meadow. While it was heating, I prepared the rest of the meal.
I made baked fries…another thing I've never made before, oddly. Super easy. Peeled and cut russet potatoes into fry sizes (I like skinnier, crispier fries so I cut them pretty skinny). Toss with olive oil and bake for about 20 minutes at 400°, flip them over and bake 25 more minutes or so until they are as crispy as desired.
I tossed the fries with Flor de Sal de Manzanilla and Nanami Togaroshi. The kicker for the fries though was the aioli. Since this was a Japanese-style dinner, I basically was making Japanese steak-frites, I made wasabi aioli (and it was good!):
1T wasabi paste
2 large cloves garlic
1″ peeled ginger
–Put in food processor and mince all the up together.
2T rice vinegar
2 super-fresh, organic, you can trust to eat them raw, egg yolks
Salt to taste
–Now turn on the food processor and add canola oil until it's the right consistency…Probably about a cup of oil, I didn't measure.
(Make ahead of time and refrigerate)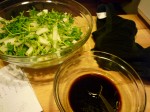 I knew this would be a rich meal so I made a crunchy, refreshing salad:
3 c. Julienned daikon
2 oz pea shoots
3 T soy sauce
2 t sugar
2 t mirin
1 tablespoon water
1 t toasted sesame oil
Dress the salad right before serving so it remains crunchy.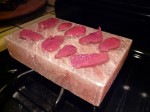 Now, the part you've all been waiting for. Thinly slice ribeye (or whatever cut of meat you want to use). I just sliced a steak as thinly as I could. When the salt is hot, put it on there! Cook for about a minute per side…if that. The first batch I think I left on too long. By the last batch I was getting the hang of it. The fattier the meat, the better. If the meat is too lean, it will draw too much liquid out of the meat and make it too salty. The ribeye was borderline…we are saltaholics so it wasn't a problem for us! I really wanted to cook Wagyu for it's fat content but nowhere around here sells it.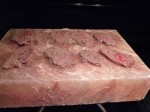 To serve, squeeze a little lemon juice on the meat and eat!