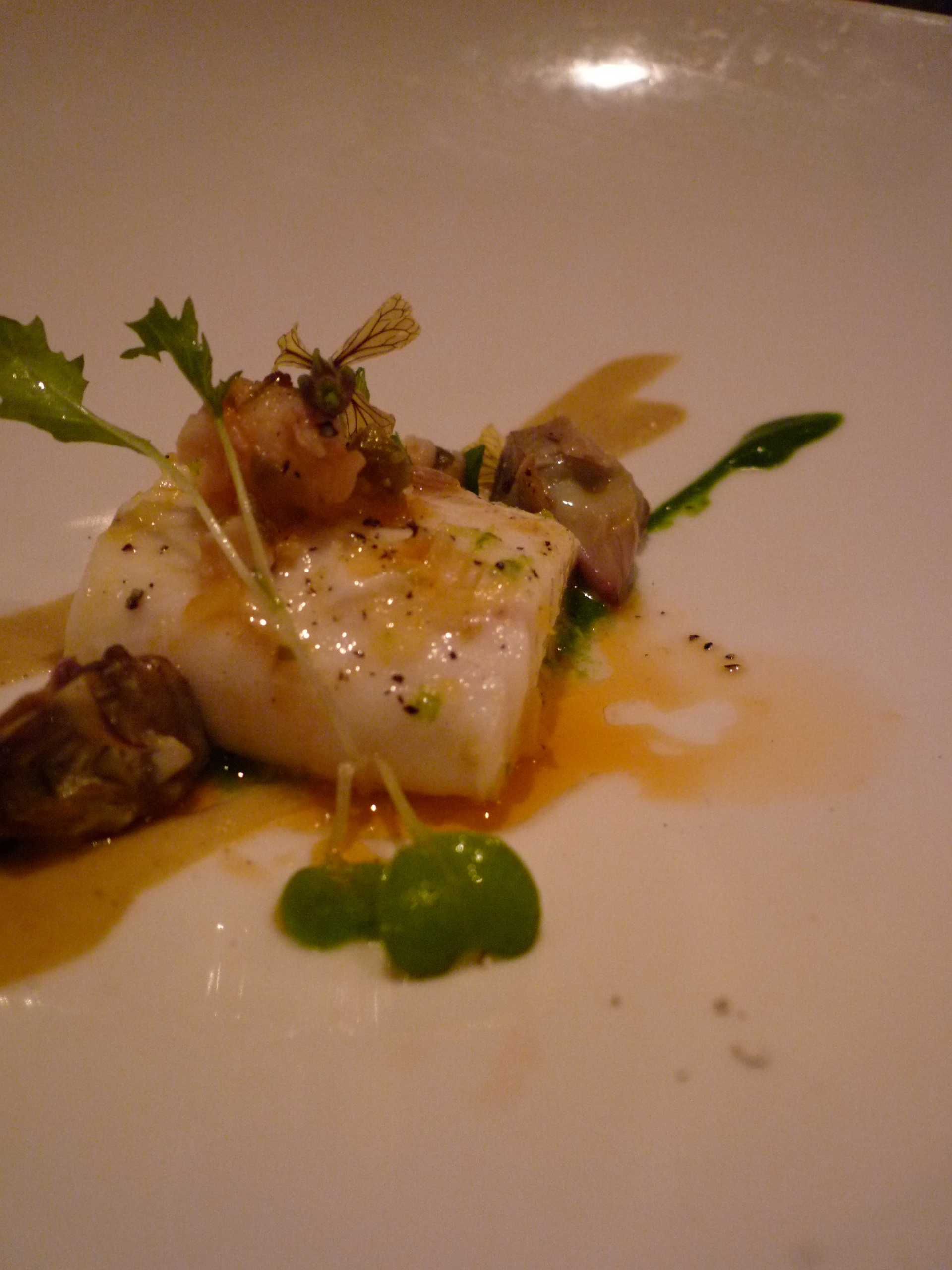 Charlie Trotter's
816 West Armitage
Chicago, Illinois 60614
773 248-6228
You had me at the bread. Lost me for a bit with the chicken foot but got me right back with the morels.
That's the meal in twitter format, now for the rest of the story.
I have to be totally honest here, the meal got off to a bit of a slow start. The Confit of Ivory King Salmon with Fennel and Star Anise was nice but I thought it needed a touch more salt. There wasn't anything
wrong with it per se, it just wasn't revelatory. The salmon was remarkably pale. Poured with this was a non-vintage Champagne Billecart-Salmon Extra Brut. It tasted like Martinelli's sparkling apple cider. More so with every sip.
Then the Milkfed Poularde with Braised Rhubarb, Cilantro and Toasted Sesame arrived…adorned with a deep fried chicken foot….the whole thing was room temperature. I really don't think it was supposed to be, and if it was, it shouldn't be. The rhubarb was sweet and I'm not usually big on sweet things with my meat in general unless it's done perfectly and interestingly. I ate it, foot and all, but did not enjoy the dish. The wine was Greek: Domaine Skouras, Moscofilero, Pelopennese 2010. Very floral…to the point of tasting like hotel soap. With my sample of one Greek wine, at this point, I'm not rushing to Greece for a wine tour. I was worried. Usually restaurants tend to wow me with their first 2-3 courses and lose me with their mains. This was not a good start.
I shouldn't have been worried. Next up was the Steamed Halibut with Arugula Blossom, Purple Artichoke and Wild Caper Vinaigrette. This was beautiful. Perfectly cooked, nice salinity, sauced so well I mopped the last of the sauce up with my fingers. The sauvignon blanc this was paired with (Scholium Project "La Severitaa di Bruto-Farina Vineyards" 2009) was pleasant and crisp and a welcome change from the Greek calamity. It's an experiment out of UC Davis. A successful experiment.
The rabbit. OH THE RABBIT!! I am not a big fan of rabbit. I grew up in a 4-H town, lots of people raised bunnies. I never found the flavor very interesting. Usually a bit like chicken but less meat to work with. The Arkansas Rabbit Loin with Morel Mushroom, Endive and Rye was incredible. The morels were the first I've had this year so that was a treat to my hard-core food porn self. The demiglace was rich and the cumin crackers should be sold to me in large boxes. Every week, ship me more! This dish was paired with a beautiful, and actually light-bodied, 2005 Vosne-Romanee Maison Champy. I would have thought it would be too light for the richness of the dish but it really worked.
Before showing up, I'd given the restaurant my list of aversions. I was beginning to think they browsed this site and found my favorite things to substitute. The Elysian Fields Lamb was made NOT for me. It was supposed to have Smoked Red Pepper, Chickpea Pannise and Kalamata Olive. BLECH! Mine came out with a pristine, fresh porcini! IN JUNE! Apparently from Oregon…craziness. The substitution couldn't have been more spot on.
The palate cleanser was Prickly Pear Sorbet with Nopales and Campari Jelly. Man, was the campari bitter! One little bite of that stuck with me for a while. The sorbet was lovely but I couldn't shake the bitter jelly taste for a good long while.
The Chocolate Brioche with Reduced Maple Ice Cream and Caramelized Popcorn was great. I wouldn't have called it a brioche, it was more dense than that but that wasn't a problem. There was some sort of foam on top…not a fan of foam, looks like spittle bug goo. I could have done without it, it didn't add anything to the dish. The popcorn was good and crunchy and not too stick-in-your-teethy.
My favorite part of the dessert courses though was the tiny little marshmallow on the cookies plate. Lots of vanilla flavor, wonderful texture, so fresh and beautiful.
My husband (Disclaimer: he roasts his own coffee beans and has become a huge coffee snob) got a cappuccino and was disappointed in the over-roasted bean flavor. I got green tea and that was nice :)
Overall we had a wonderful meal. I would definitely go back. We sat next to two Navy sailors in their dress whites (Hey! They didn't have to wear a jacket!). They were so far from the stereotype of sailors. For one, they were at Charlie Trotter's and secondly, they were discussing Chinese Opera with the waitress. Loved it!
The waitstaff was all very attentive without being stuffy and hover-y. We visited with the woman at the bar after our meal while we were waiting for our ride and had a wonderful conversation about Mexico, mexican food, various alcohols and traveling. I never know what the attitude of these places will be when we go, especially when there is a jacket required, but it was a lovely evening.