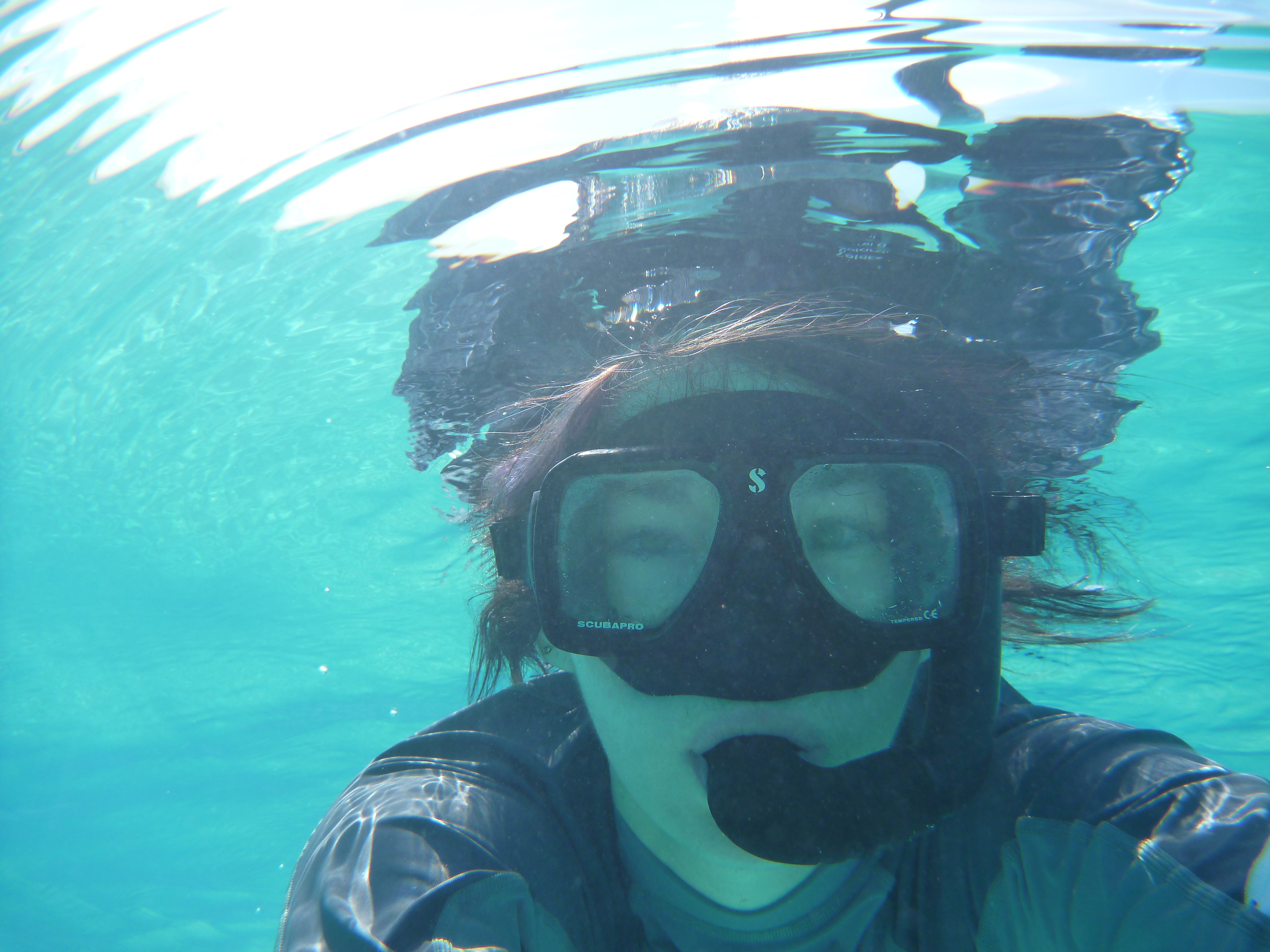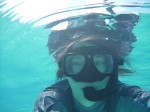 We arrived a day early and spent my birthday in the amazing waters of Grand Cayman. We snorkled and swam and snorkeled some more. The water is warm and clear and full of some of the cast of Finding Nemo. It was incredible. I snorkeled in Hawaii many years ago but it was not like this. The water here was warmer and clearer.
We were going to be booked solid with demonstrations, lunches, dinners and events so I wanted my birthday completely schedule free. Because of that however, we didn't make dinner reservations. Once we got in from snorkeling, I realized I really wanted to be able to eat at Blue by Eric Ripert for my birthday. We called. They had a 9:30 table. We have a 7 year old. That wasn't going to work. My husband had booked it though before we got back to the room and decided that was a bad idea. So we walked down to Blue to tell them we wouldn't be using the 9:30 table assuming we'd be heading to one of the other hotel restaurants for dinner. We were in shorts, not dressed for an Eric Ripert dining room. They said they could seat us then if we wanted. OK!! We sat and were presented with the many choices for dinner and, surprisingly, a kid's menu! I never expected that. Le Bernardin sure doesn't offer a kid's menu. ;-)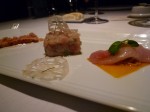 They brought out the amuse bouche which was a tortellini with…honestly I have no idea but it was so wonderful, and a scallop ceviche bite. They gave my son what looked like two tater tots but they called "potato croquettes". He was not interested. I told them he'd really rather have the scallop and they brought him the "grown up" dish instead. He loved it, they thought he was awesome.
He got tomato soup with croutons and local snapper with rice and vegetables from the kids menu. We ordered the 3 course a la carte menu since we knew that he wouldn't have the stamina for a full many-course, multi-hour tasting menu. I started with hamachi 3 ways, then the lobster and for my main the tuna. My husband got the conch ceviche, the tuna with foie gras (a signature Ripert dish) and the snapper.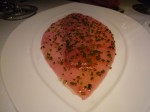 While we were eating, we got to ogle the table full of celebrity chefs and they're beautiful wives having dinner on the patio outside our window: Eric Ripert, Anthony Bourdain, Jose Andres, Richard Blais, Francois Payard, April Bloomfield and others. It was hard not to stare. The weekend had just started so we hadn't had our brush with culinary fame yet. This event is so small (compared to most food events) that you are constantly running into a culinary hero as you're walking the beach, traversing the hallways of the Ritz or at the events.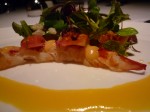 Dinner was spectacular. The service at Blue is on par with Le Bernardin. The sommelier noticed our son was getting antsy and came over an made him a mouse out of a napkin! They were so incredibly accomodating even though they were also having to serve their boss and some of the best chefs in the world on the patio just outside.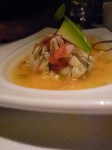 This is one of those meals ….one of those weekends…that it seems silly to "review" the food. It was excellent of course. That's what we flew many hours on a red eye with a bonkers kid playing 12 hours of video games for. The hamachi was clean and refreshing, acidic and salty, rich and cool and the same time. The conch had no chewiness like I expected, but it also had bell peppers so I only snuck a tiny bite from my husband to see what it was like. The lobster was, well, lobster at Blue! Imagine it and you'll probably be correct!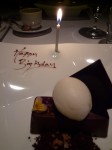 I ordered the chocolate death for dessert and it arrived with "Happy Birthday" written in chocolate on the plate. I am not one to hide the fact it's my birthday. I don't worry about getting older. I tell everyone I meet it's my birthday. I revel in my day. It's all about me. I got a candle and a chocolate wish. And I was in the Caymans with my favorite chef in the world. My birthday was the most amazing one I could imagine. Well, except for the woman who told me her husband flew Eric Ripert to her house to cook dinner for her and 6 friends. That is unbelievable but nevermind that. I would never dream of anything better than the Cayman Cookout for my special day.
And it would only get better.