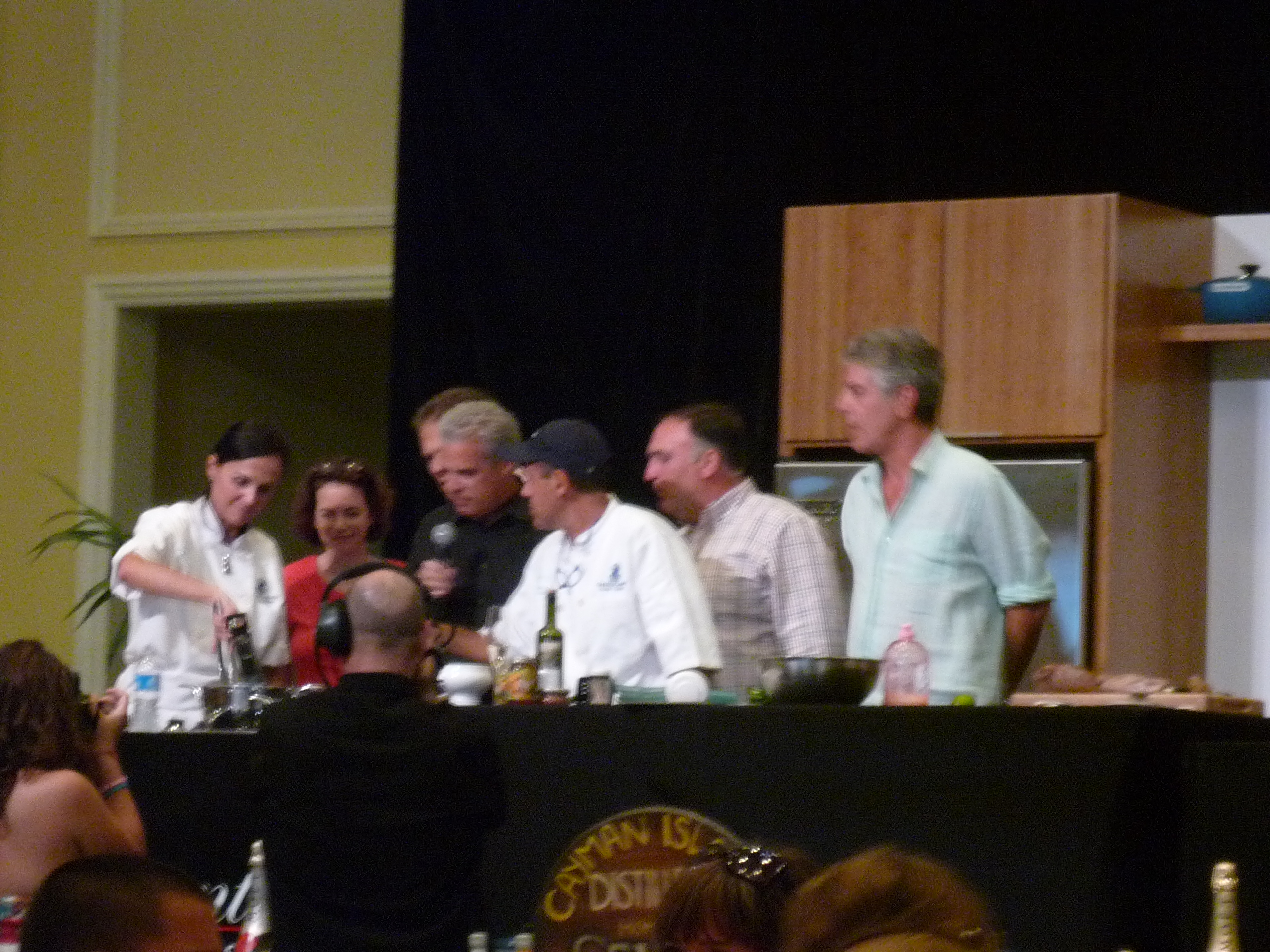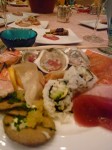 The morning started with sleep! We didn't have a 10am event, our son didn't have a 9:30 camp. We got to wake when we woke, slowly get going then walk our son down to the Les Chefs Petits brunch. This was supposed to be the kids making their own brunch in the Seven kitchen. This was bad planning on someone's part since the Seven kitchen has their regular Sunday brunch happening and they couldn't pile 30 kids into the kitchen! So they set them up out at one of the event tents on the beach instead. I'm sure this was better for the kids anyway, they got to have great food and still be maniacs.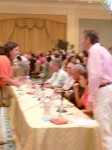 Meanwhile we headed in to the ballroom for an incredible Champagne brunch. I never have high expectations for brunches. Even the one at the Waldorf in New York City failed to impress me. This one however…WOW. The champagne never stopped flowing, I wouldn't be surprised if I consumed an entire bottle over the course of the morning. The level in my glass never dropped even though I was sipping the whole time. I piled my plate high with every seafood bit I could find. I don't think I'd recovered from the meat-heavy Friday night BBQ so sushi, oysters, caviar, they all sounded wonderful and rejuvenating and they were. I basically just kept hitting the oyster bar until the brunch was over!
As we are all joyfully noshing away, there is an intense competition happening on stage, Top Chef style. The two finalists from the Cayman Cookoff, Maureen Cubbon and Eric St. Cyr, are frantically putting together a dish and a drink (the twist added to the competition by Richard Blais) for an intense table of judges: Eric Ripert, Anthony Bourdain, Jose Andres, Dana Cowin and the Governor of Cayman. I think I'd pass out from the stress! They are better prepared than me however and they completed their dishes and drinks and thoroughly impressed the judges.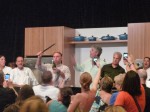 Eric St. Cyr came out on top and after the winner was announced, the crazy judge crew got on stage with bottles of Moet and a huge saber! Luckily, no blood was drawn, champagne just sprayed anyone in the vicinity. All we needed were some umbrella girls…the MotoGP of food celebrations.
We hung out on the beach with our son for some of the afternoon, perused the artisan market, picked up some cookbooks and got them signed by Eric and Tony, then had some time to relax before the Gala Dinner. Unfortunately, the evening didn't go as planned. I gave my "Food Aversions" card to the restaurant manager. I knew this was going to be an intense, stressful evening for the kitchen and the waitstaff. I thought the card would make things easier for all involved, I mean, that's why I have them. What it did was make them fuss over every course of mine and over me which I don't deal with well at all. I did get to enjoy a little before I went into panic mode though.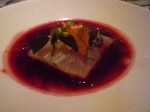 The first course was Wahoo Sashimi, Ume, Garlic and Shiso by Laurent Gras. Wahoo is just the best fish around. I could have eaten nothing but this. The fish paired with Laurent's grace was a perfect dish. This is actually where the stress began. They didn't bring me this, they brought me some sort of veggie salad instead. I didn't want to be a problem but I wanted the wahoo! I saw them take the dish back to the kitchen…the kitchen activity is being broadcast to the whole dining room…I saw Eric talk to my waiter, look at the card, eventually the wahoo came out. I was humiliated. It was exactly what I was trying to avoid. I was truly bummed that my chef-idol was being inconvenienced by me.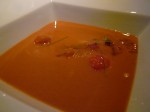 I ran into Eric's wife Sandra in the restroom after this. She is so incredibly awesome, I love that woman (hell, she babysat my kid!!). Anyway, I told her what happened and she joked with me about it and I felt much better. Then the next course came out and I had a substitute where I should have. The dish was Foie Gras Mulligatawny and I don't like Foie. I got a gazpacho-like dish just bursting with flavor. We were temporarily back on track.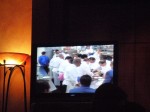 Then the waiter kept coming up and checking on me, making sure everything was fine, over and over. The service was so incredible, I had an anxiety attack. I took my fabulous glass of wine and sat outside for the next two courses. I couldn't deal. I was completely blowing an amazing dinner. Then I found out my son was having a meltdown upstairs with his babysitter. I guess it was in the air. This gave me an out. I switched from foodie-mode to mother-lion mode and went to my kid. I said goodbye to Sandra grabbed my wine and headed up to the room.
My husband stayed and said Eric's Venison was the highlight of the evening and he doesn't even like venison. I'm sorry I missed it but something wasn't meant to be. It was too fancy and uptight and stressful for me. I loved that we could be sitting around the table with people we'd never normally associate with. They were from different generations, different occupations and very different political worlds than us but we found common ground in the food. Food can bring us all together. It is a leveling ground.
I wish I could have experienced the full Gala Dinner but I truly enjoyed the courses I had. If we make it back to the Cookout next year, I know the Gala isn't for me. It was icing on an already sweet weekend, truly not needed to complete the adventure. It was a non-stop bacchanalian escapade. I really hope we can do this again!