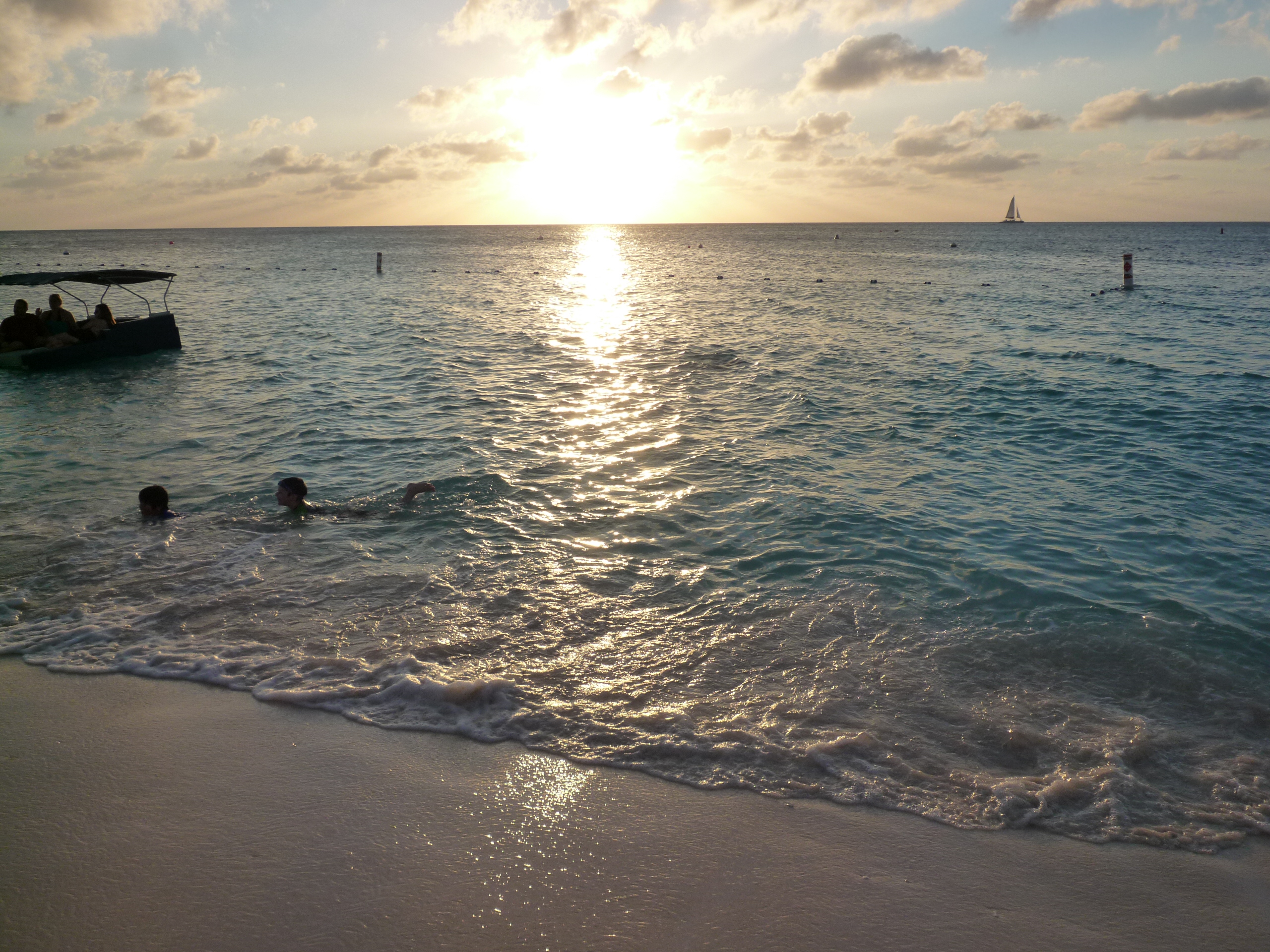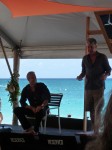 The first event of Saturday morning was one I was really looking forward to. Good vs. Evil – Ripert and Bourdain in conversation. I didn't realize they had a schtick. They interrogate each other in quite the hilarious way. Tony started on Eric, trying to find his weaknesses…trying to embarrass him. Eric seems to blush quite easily but he's prepared, it's all in good fun. Then Eric went at Tony but was still the good cop of the two.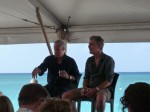 The interesting point in the conversation was when they ended their performance and took questions from the audience. There was a lot of talk about the Food Network chefs. About how Paula Deen is the evilest of them all, I'm sure you've heard in the press, because she promotes ridiculously unhealthy food, was diagnosed with Type 2 diabetes three years ago but kept showcasing crap food and is going to be endorsing diabetes pharmeceuticals now. Evil and wrong. This got Tony going more than anything. Until someone brought up Gordon Ramsey. I've never seen Eric get upset. He's usually completely diplomatic about everything. He hates the way Gordon abuses his chefs and not only that, how the show is preloaded with people set up to fail. It is wrong, immoral and damaging to the cooking world.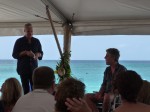 They also were asked how to get Americans to change their view on food. I completely agree with what Tony said. We have to take the low road. We have to brainwash the kids. Eric's son thinks that Ronald McDonald kidnaps kids and sometimes they end up in the burgers. That is brilliant. Our son thinks McDonalds is just a bathroom on road trips. You need to make the kids think they'll be weird or shunned if they eat fast food. If the majority of kids thinks that, it will spread like wildfire. I've seen it myself with my kid and his friends. I've heard him lecture a friend for going to Burger King. About how awful it is and how it's not really food. I just hung back and listened, I had nothing to add. To change the world, we have to change the next generation's thought process.
I briefly gushed at Eric afterward…I cannot talk to that man without praising him endlessly. It's embarrassing. I have to stop! This time it was about McDonald's. I love that idea.
We made our way to the other side of the resort to Periwinkle for lunch by Laurent Gras. I was really looking forward to this one. After the ceviche on Friday, I knew I'd like what he was doing. I have to admit, I had no idea who he was before he was booked for the Cookout. For being such an avid foodie, I don't follow the restaurant scene and news all that much unless I'm going somewhere and need somewhere to eat. I missed all the Laurent drama. I was kind of glad for that actually, I came in with a clean slate. He is a genius with freshness and lightness. I left his lunch full but not exhausted and weighed down. We had Conch ceviche with caviar, parsley and lime; Caribbean Lobster with dark rum and lettuce; Wahoo with tomato, ginger and cilantro; and Melon consomme with lemon ginger sorbet.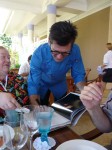 Our tablemates were marvelous. A woman named Rosemary who makes it a point of getting cookbooks signed everywhere she goes. She has over 500 signed books now in just a few years. A couple from Calgary who are food critics for that area, they were lovely. And Richard Morais, a writer for Barrons and a published author. I just bought his book, The Hundred-Foot Journey and will start reading it soon. It looks fantastic.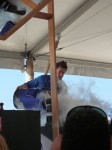 For the whole weekend, my husband and I were in the same demos and events except for one. He wanted to drink wine with Aldo Sohm (Le Bernardin's AMAZING sommelier), I wanted to go see Richard Blais. We both made the right choice and both wished we could be in two places at once. He had wines that were rare and to die for. He snuck me a white burgundy that I savored for as long as I could. Blais was hilarious! He was entertaining, knowledgeable, enthusiastic and so much fun. He made "Oysters and Pearls," his homage to Thomas Keller but a completely different dish. He took oysters, topped them with a mignonette that had minced cilantro stem in it along with dill, shallots and, of course, vinegar. Then he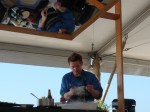 topped them with the pearls which were horseradish-creme fraiche frozen in liquid nitgrogen. This session made me want to head to the welding shop and buy myself a container of liquid nitrogen. He also made frozen margaritas by putting the tequila and lime in the mixer and whisking in liquid nitrogen until it became like a sorbet. Genius.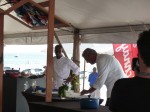 The last demo before dinner was from Eric Ripert himself. Cocktails and Ceviche on the beach. He demonstrated a ceviche and a tartare. Both delicious of course. All the while the sun is turning golden behind him. Our son was playing in the waves with Eric's son (they had a blast together and Sandra is an utterly sweet and wonderful woman). And we were sipping Moet Chandon and eating Eric's fish. Life was perfect right then.
Dinner was off-site at Michaels Genuine Food and Drink. We were bussed to the event, given champagne and hors d'euvres and then led to our tables. We had Wahoo crudo, slow roasted pork shoulder, rabbit crepes and lamb scottacdito. None of which I got pictures of because it was too dark but from what we heard the next day, Michael's was the best dinner of the evening. It was really fantastic.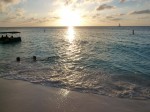 After the meal we quickly rushed through the dessert tables, grabbed some absolutely wonderful treats and then had to rush back to get our son from camp again. The disadvantage of having our son with us was having to dart out of things early, the advantage was…well, everything else. He had such an amazing time and when we picked him up that just meant we weren't hanging around events too late, getting too tired and too drunk. I think it worked out well for all of us.
Only one more day to go. Everything flew by so fast.