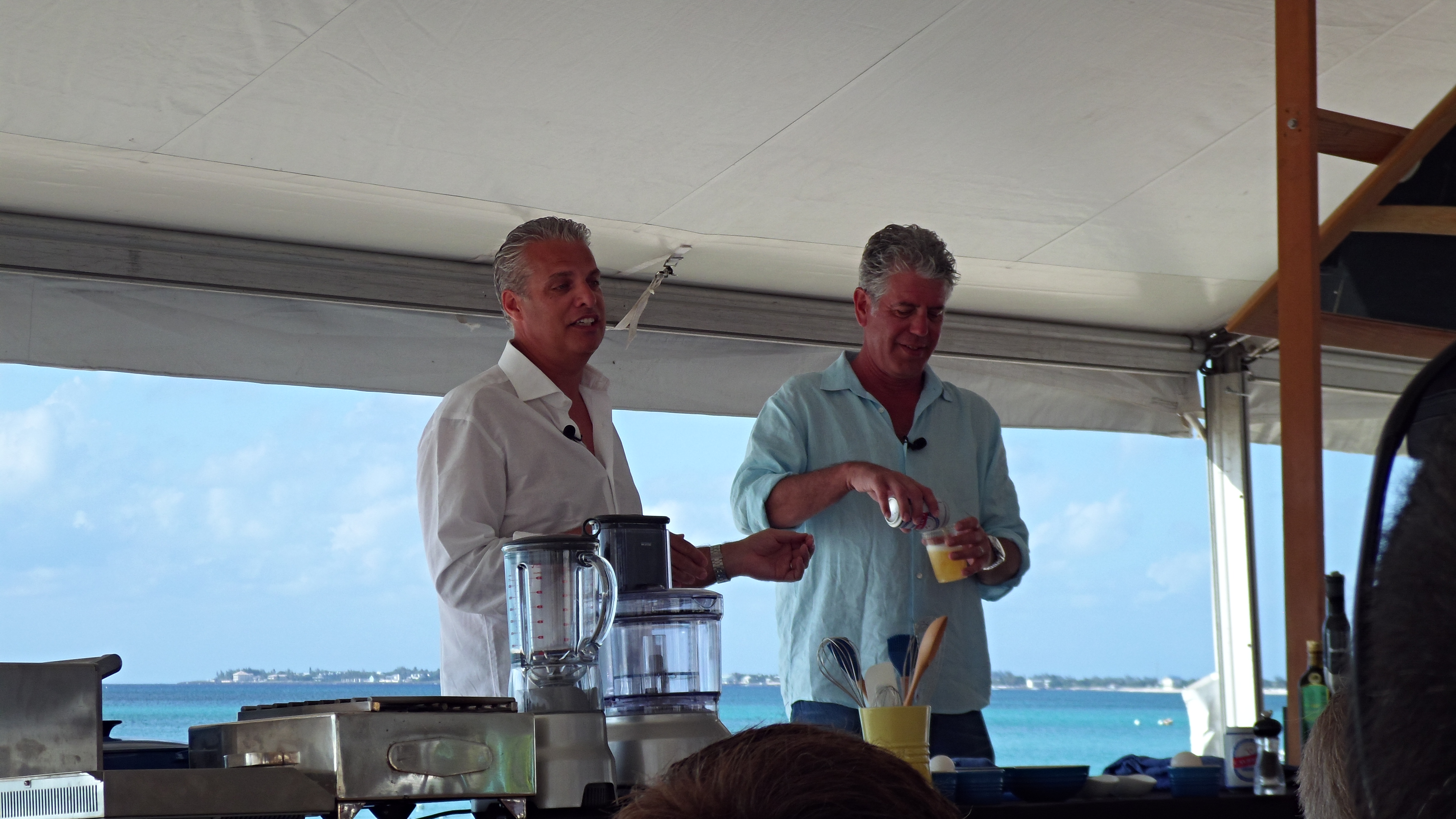 Vertigo runs in my family. I've always been prone to motion sickness but about six years ago I went on a ferry in Sydney and my head thought it was still on the ferry for about 5 days. I'd be standing in the kitchen pouring a cup of tea and the whole room would spin. Since then I can't swing on swings, jump on trampolines or, I thought, go on boats. I'd never in my life been on a sail boat. Why would I do such a thing when I'd just spend the whole time heaving over the side?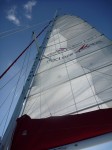 Well, before we left for this trip, I got transderm scopolamine from my doctor. That's the little patch that goes behind your ear and sucks all the water out of your inner ear so there's no sloshing happening. I'm very sloshy. I had no idea if this thing would work or if I'd have side effects or anything. I just stuck it behind my ear, washed my hands really well so I wouldn't touch my eyes and dry them up, and then headed to the dock. I'll end the suspense…the patch worked! The water wasn't smooth by any means, we were up and down and all around but I didn't feel a single worble. I can go on boats!!! I also wasn't worbly when I got back on land. Maybe I should wear these patches all the time ;-)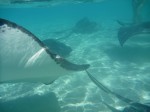 So, we got on this catamaran along with a couple of dozen other people and sailed about 45 minutes out to Stingray City. I can honestly say I've never experienced anything like this. I've petted the manta rays at the Monterey Bay Aquarium but they're small, don't have stingers and half the time are huddled in the pool away from people. Stingray City was a whole other kettle of fish (*groan*). My son and I were the first down the ladder (well, he was first and I followed) and then he was the first to stop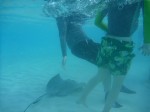 and get scared to jump down. The water was choppy and he wasn't going to be tall enough to touch the bottom. So I passed him and jumped down first, tried to convince him to jump to me and then got doused by a wave and got about a quart of salt water up my nose. That's a great start. But I recovered, got him down and then we were surrounded by stingrays! It was unsettling at first, and then really, really cool. They feel soft and a little slimy and have spent their whole lives at the sandbar where people come and feed them so they are really friendly…almost too friendly. We all had them swim up to either side and slap our legs looking for squid. It was CRAZY!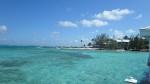 We spent about 30 minutes in the water with them then headed back up to the boat for some tequila drinks, lots of water, and a sail to Rum Point for some burgers. Since my husband's foot is still healing from his accident in September, we always had to search out a place to sit first. We camped out in some beach chairs right next to the water, the margarita stand, and Eric Ripert's station.
Sweeet. I had to pass on Spike Mendelsohn's burger because it was lamb and I know how I am about lamb. I love rack of lamb. Let it grow up and it's too lamby for me (I can't overthink the baby-eating part of that). So I just wandered on and got one of Eric's snapper sliders with spicy aioli. I actually got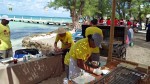 one for myself and my hubby and my son got one without the aioli. Then I went back and got another, and I'm pretty sure another. I scoped out the other burgers and taste-tested a few but always went back to Eric. To quote my son, "How does he make food taste so good?!"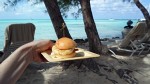 Eric wasn't overly busy, this was a small event, so I went up to attempt a conversation. I was doing really well! I was asking about the capers and the peppers on the fish from the Barefoot BBQ the night before. He said the capers were brined Spanish capers (they were amazing and unlike any caper I'd ever had) and the peppers were a local island pepper that he didn't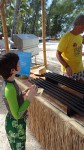 know the name of. I was commenting that I was surprised I liked them because they weren't hot but they didn't have the flavor of bell pepper at all which was great. See? Going well right?! Then I spilled champagne down my shirt. *sigh* It wasn't sexy with me in a bikini, splashing champagne on myself in a hair-flipping, buxom, margarita-fueled craze (I was not in a bikini, nor am I buxom). I basically drooled. Someday I will manage to not look like a fool.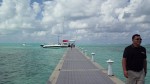 We had to finish up and catch the first catamaran back to get our son to his snorkeling camp before we went to see Eric and Tony Bourdain do their demo and talk. So we waltzed back to the catamaran and had a lovely sail back to the resort.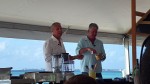 It's always fun to listen to Eric and Tony razz each other. They didn't do the Good vs. Evil routine (they'll be on tour with that this spring) but they did a basics of cooking demo and Q&A session. They addressed things that people regularly screw up in the kitchen. First up, the omelet. Tony made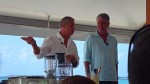 a simple omelet, Eric acted shocked that Tony could cook. Their kids taste tested it and got the thumbs up :) Eric talked about how Tony has taken up meditation. Tony looked quite shocked and confused by this idea. And then of course Eric throws the punchline out which is a stack of photos he has taken, and I've seen him post them on twitter, of Tony sleeping on airplanes.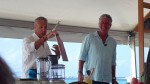 This bromance can get catty!!
Eric then showed how to property tie up a chicken for cooking to keep its shape and juices in. He made scrambled eggs which were to die for! They passed them out in little egg shells. He cooks them through then whips in creme fraiche and chives. I am going to try this technique.
Then they started going through the list of things people do not do right in the kitchen. First up, grill a steak. I was happy to hear them go through the list of do's and don'ts and know that I was doing it all right! Let the steaks come up to room temp, salt them right before putting them on a not-too-hot grill (or you get raw inside, charcoal outside), DON'T touch them. Flip the steaks only once, don't cut or poke them, leave them the hell alone. Then let them rest for about 8 minutes before serving. Yup, I do all that! For pasta: lots and lots of water, tons and tons of salt and don't put oil in the water. It does nothing to keep the pasta from sticking. Oil and water don't mix.
The funniest bit was when Sandra, Eric's amazingly awesome, beautiful, funny wife, asked what they make when they cook romantic dinners for their wives. Eric replied with, "I'm not married." Ouch! And then said they go out to eat. Poor girl's never going to get a romantic home-cooked meal! That's what you get for marrying a chef.
After it was over I got Tony to sign my Get Jiro! book and then we went and got our son from snorkeling and, yet again, spent the rest of the day in the ocean, on the beach or in the hot tub. It's hard to be back home now!
---