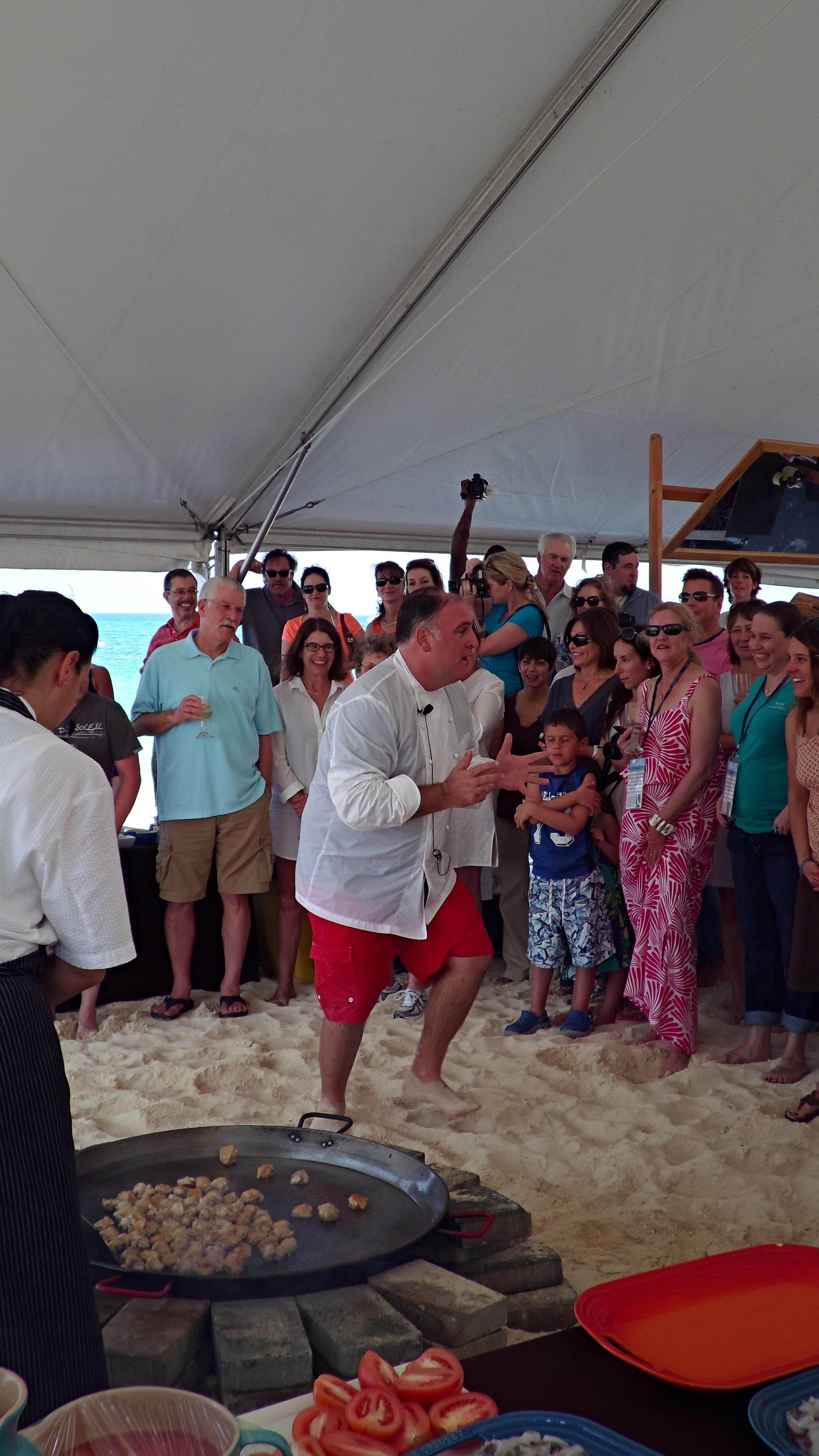 Friday began just as it did last year. With the highly anticipated arrival of Jose Andres to his cooking demonstration at 10am. We just had a few bites of fruit for breakfast knowing we would be eating for hours. This may have been a slight mistake since the first thing Jose served was a drink. I'm getting ahead of myself again though.
Everyone gathered around the demonstration tent speculating on how Jose would arrive. Last year he emerged from the ocean in scuba gear holding two live lobsters. He had to outdo himself this year. He did! He came in on a water jetpack….a toy seemingly straight out of Hammacher Schlemmer magazine. Completely useless and ridiculous but futuristically awesome.
He shed the helmet and gear and put on a chef's coat over his wet clothes and got to work! There was a freak storm that came through Grand Cayman on Friday that brought higher than usual tides so the surf was coming right up to the tents. They set the paella pans up on fires under the tents rather than out in the sun further down the beach. That worked out, I was sweltering last year and I thought the sous chefs were going to collapse from the heat!
He got the paella started with a lot of olive oil and chicken, browned all that up nicely, added squid, green beans, mushrooms (chanterelles!), chicken stock, saffron and most importantly SPANISH rice.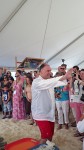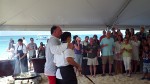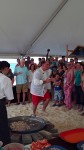 While he's got his sous chefs manning the fires along with help from an audience volunteer, Jose gets to work on a cocktail. This one has wine and whiskey….it's 10am!! To be more precise it has lemon juice, simple syrup, brown sugar, whisky and ice in a shaker. That goes into a glass and then you pour red wine in over a spoon so that it layers. It was quite tasty! And made for a bit of a blurry morning.
He keeps running around like a maniac barking orders for MORE OIL! MORE LIQUID! LESS FIRE! MOVE THIS! DO THAT! It was hectic and fun but I would not want to be his sous chef!
The end result was fantastic though. The key? Put the rice in, even it out in a completely level pan and then Don't Touch! Sixteen minutes of staring at the bubbling pan. It had a roasty-toasty flavor that was so rich. The chanterelles were incredibly flavorful.
We grabbed our paella and ran off to catch our shuttle to eat with David Kinch of our local Manresa fame. Yes, we traveled half way around the world to eat food from a chef that lives in our hometown. Don't judge!
We hopped in the shuttle bus and drove the 20 minutes to The Brasserie where David was taking over the kitchen for the afternoon. We chatted with David a bit when we got there but of course he had a few things to do! So we went out into the garden and sipped some lovely Justin Vineyards Sauv Blanc and began enjoying the appetizers.
First to waltz by us was the Garden Callaloo and Cucumber soup with Grated Coconut. A little shooter of refreshing yum. The next was a rich bite of Braised Oxtail with Java Apple and Marcona Almond on a Blue Corn Pancake. Not light, not refreshing, just rich, lick-your-fingers goodness.
We had a simple bite of a local tomato with basil and sea salt. A wonderful treat to get in January! I had to skip the Tuna Crudo with Pepper Escabeche and Garden Ackee. The peppers were right out for me but hubby said it was great! The dish we had to guiltily confess to eating to our son was the Cayman Turtle Stew on a Garden Breadfruit Chip. I've never eaten turtle. They have turtle farms in the Caymans just like we have trout or oyster farms. They are raised for food. And DAMN they're good! It tasted like slow braised pork. I got over the guilt pretty quickly!
We were instructed to mosey inside and find a seat for the next round of food. David came out and told everyone about his experience with the local fare and also about Manresa and what it's like with its partnership with Love Apple Farms. He stepped up and gave a great representation of his food and talent, that's for sure. I think he'll be getting people from this lunch coming out to Las Gatos. We sat at the same table as Joe, the owner of the wineries being featured at lunch, Justin and Landmark Vineyards. He got up and described their style and location (Paso Robles and Sonoma) and we continue on to the first sit-down course: Island Gungo Peas with Snapper and an emulsion of Seville orange, pimento and lime leaf. I didn't leave a speck of anything on my plate. It was wonderful. The gungo peas aren't like sweet peas, they're, well, not sweet. They're more bean-like in flavor but they're round. It was really interesting to try all these new island flavors.
The Wahoo and Conch marinated with fennel and tangerine was another plate licked clean. I can't get enough of the caribbean wahoo. I know it's technically the same fish as Ono but it's not even close in texture and flavor. Wahoo is worlds better! I was worried about the dessert because it was a coconut cate with passionfruit and guava sorbet. Surprisingly, the coconut cake was not coconut-y. I loved it! The guava sorbet on the other hand I couldn't eat. On our honeymoon in 1999 we went hiking in Hawaii just after guava season which meant there were rotting guavas everywhere. It's been over 13 years and I still can't stand guava. Scarred for life. The rest of the dessert was spot on though.
I'm really glad David was asked to the Cookout. He really showed off his talent beautifully and I hope people fly out to Manresa to try it out. I know he worked like mad down there to make sure everything came out the way he wanted it and it showed.
We shuttled back to the hotel to pick our son up from the afternoon camp and spent the rest of the day in the ocean! Rough life.
---