My husband was away for a week on business. This happens regularly, it's not unusual. My son and I have crazy busy schedules…well, he does…and the week flies by. One thing that is really different though is I cook less for that week. We'll go out or I'll make some simple pasta. Nothing that I consider real cooking. By Thursday I was depressed. I didn't want to do anything. I had lots of things I could do, but I sat online, glassy-eyed, as my twitter feed rolled by. I tried retail therapy: got a really cute skirt on eBay for $10. I went to the thrift store and bought a big bag of things to rip apart and make new, cuter things out of. But still, I was just blah.
Then I realized what I was missing. Cooking! It's my happy place. It's what I do well and it makes me feel good about myself–as well as eating well which helps physically. Saturday night my husband got home but my neighbor and I were out seeing Eric Ripert and Tony Bourdain. I was inspired.
I invited the neighbors over for a fancy dinner on Sunday. I pulled out Eric's A Return to Cooking and started flipping through. His are the only recipes I follow at all. I love them. Of course I still modify and cut some corners ;-)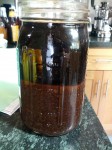 I picked out Crab Salad with Chilled Gazpacho Sauce, Grilled Rack of Lamb and Cucumber Salad, and Pan-Seared Skirt Steak with Herbed-Butter Frites and Bitter Greens. I hit the store to stock up for the meal and they had no crab. They have had crab every day that I've gone in there until Sunday. They even had it when I went in two days ago. I had to go off script and decided to make my Green Curry Ceviche. The fish I bought was weird…possibly with parasites. First time I've ever gotten bad fish at my market…they refunded my money, no questions asked. I took that as a sign that I was trying to cook too much food.
I concentrated on the other two dishes. My husband took on dessert: Flourless Chocolate Cake with Coffee Liqueur. It was inspired by the coffee infusion that he made about three months ago. We hadn't tried it yet. It was a pound of Panama Gesha in Hangar One vodka. It better be good (it is!).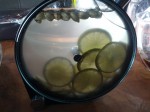 I also wanted to play with my Porthole infuser so put some ginger, lime and cardamom pods in there with some Oxley gin and let it sit. The plan was to mix up little drinks to go with the first course. Hubby took over that project when I was up to my elbows in lamb.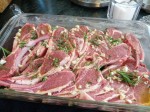 I cut the racks of lamb into chops and covered them in herbs and olive oil and set them aside. I put the skirt steak in the soy-based marinade from Eric's book and set those aside. I sliced the potatoes into thin fry-sizes and put those in cold water. I made salad dressing. I washed the greens…I used regular lettuce, not bitter greens. I had a ton in my fridge from my CSA. I thinly sliced cucumber.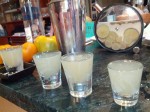 I tapped hubby for the infuser drinks. He muddled some cucumber, added lime juice, simple syrup and the gin and it was really good! The infusion was pretty strong even though it only sat for a couple of hours. The design of the Porthole works really well.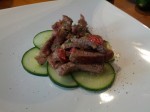 Then I started searing the lamb. I had to do it in two batches, the pan was too small. But that gave the first batch time to rest while I seared the second and the second batch time to rest while I plated the first! I sliced the lamb off the bone, tossed it with the dressing and piled it atop a nice little circle of cucumbers.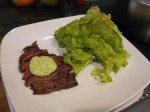 I had already par-fried (is that a word?) the fries and set them aside. So I fired up the oil again to bring it to 450° to crisp them up. I seared the skirt steak and set it to rest before slicing. I then sliced up the steak, tossed the salad with dressing and plated them. This was the best skirt steak I've ever, ever had. Eric is THE MAN. Yes, I cooked the food but the marinade was not my recipe.
The fries were also amazing, tossed with herbed butter and crispy as can be. I didn't get a picture of those. I was too busy getting them on the plate and eaten while still crispy to take a photo!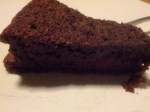 The cake also ended up being rich and so incredibly good. Who needs flour when you have butter and chocolate?!
Needless to say, I was in a much better mood after 5 hours of intense prepping and cooking. Not many people would say that but I've always been odd.