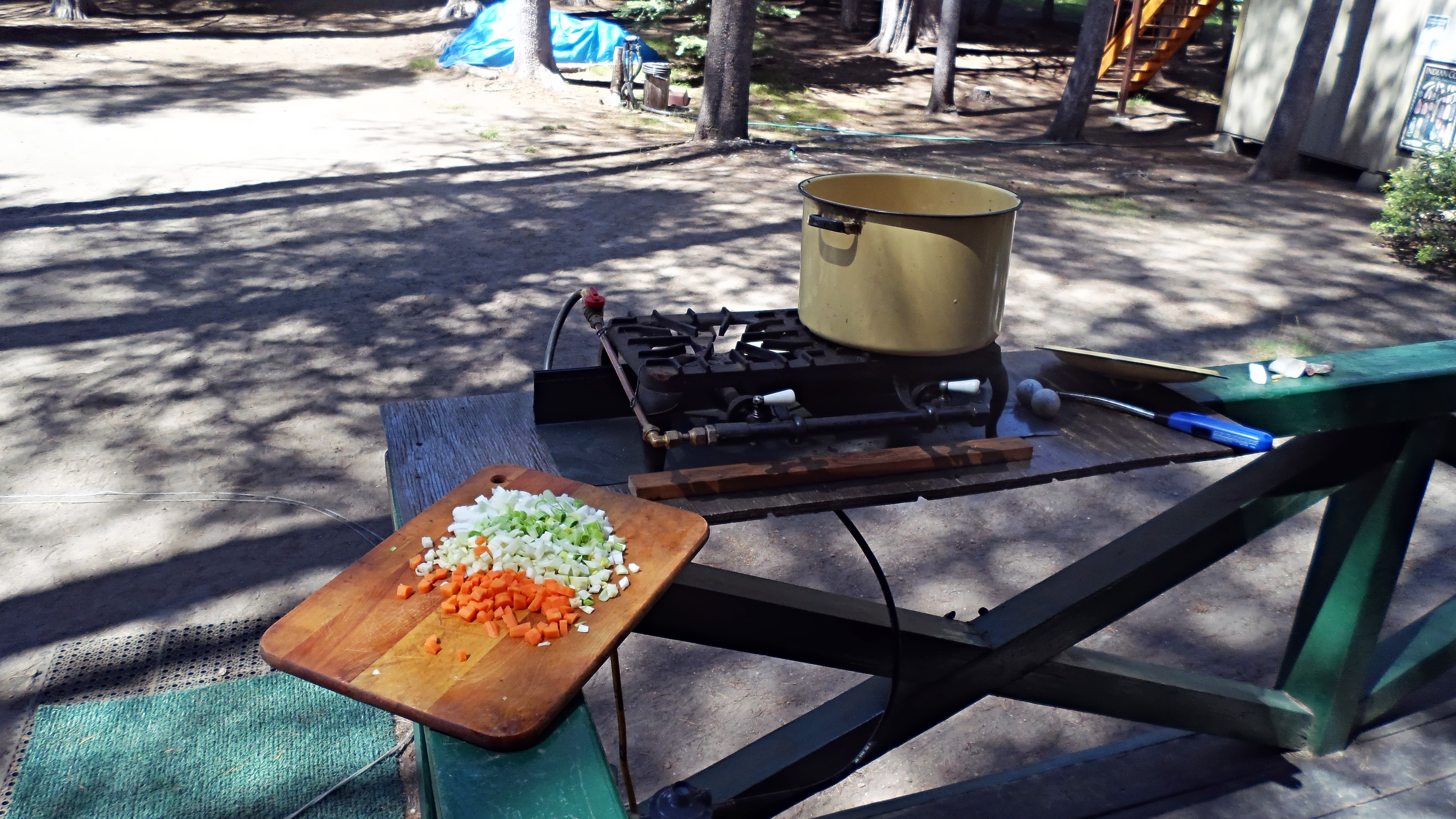 Every year we disappear into the woods for a week at my dad's cabin. Every year the food gets better. We step it up a bit each trip. There are the standard meals and ingredients: steak, chicken, corn, potatoes (my dad's potatoes are the best!), tomatoes and cucumbers from his garden. We bring up a case of wine and manage to make our way through it over the week with no problem. I love having epic bottles of wine while surrounded by pine trees, old shacks and brick-a-brac from the old cabins in the area.
Last year my stepmom brought up a tortilla press and a bag of masa and we made tortillas. They were really good. While making them we realized that every year we peel corn and toss the husks into the fire. Why don't we just keep them, bring masa again and make tamales! So we did. We carefully peeled the corn and saved the best pieces of husk. One night I made my Slow Roasted Pork Shoulder and made sure I brought a big enough piece that I'd have leftovers and I kept those for the filling of the tamales. I brought up lard that I'd gotten from my CSA because everything is better with extra pork fat.
They weren't nearly as hard to make as we had anticipated and they were 10 times better than we had hoped they would be! I made my signature guacamole, heated up some black beans and had some corn too because my dad always brings enough for us to have 10 ears per person!
Two other traditions are the nightly campfire with s'mores galore. We have the usual bag o' marshmallows for most of the nights but the last night's finale is the Recchiuti s'mores kit which is amazing not just for the dark chocolate and hand made marshmallows but the graham crackers are TO DIE FOR!
And the last night we have leftovers soup. I scavenge through the (new this year) fridge — it used to be the ice chests — and find what we have left to use up. This year it was ground pork, some leftover chicken, dried beans and various veggies. My dad pulled the propane stove out of the "Mouse House" (one of the original buildings on the property) and got it working again so we could cook out on the deck and not heat up the whole cabin. Excellent food made under the pines.
I've been going to this cabin since I was in high school…never mind how many years that is…and it continually gets more fun and more gourmet. On the years we actually get rain (not the case this year, we're at something like 18% of normal rainfall for the year) we get porcini popping up around the property. Each year more of the car is filled with bags of food and ice chests…better tequila for margaritas, more interesting mixers and new local and not-so-local beers. My dad mans the grill (I am completely inept when it comes to mountain cooking over a fire!) and my stepmom, hubby and I tag-team the kitchen. Our son helps but mostly keeps the pugs company, catches some frogs and shoots at the archery target.
I can't wait until next year!!!