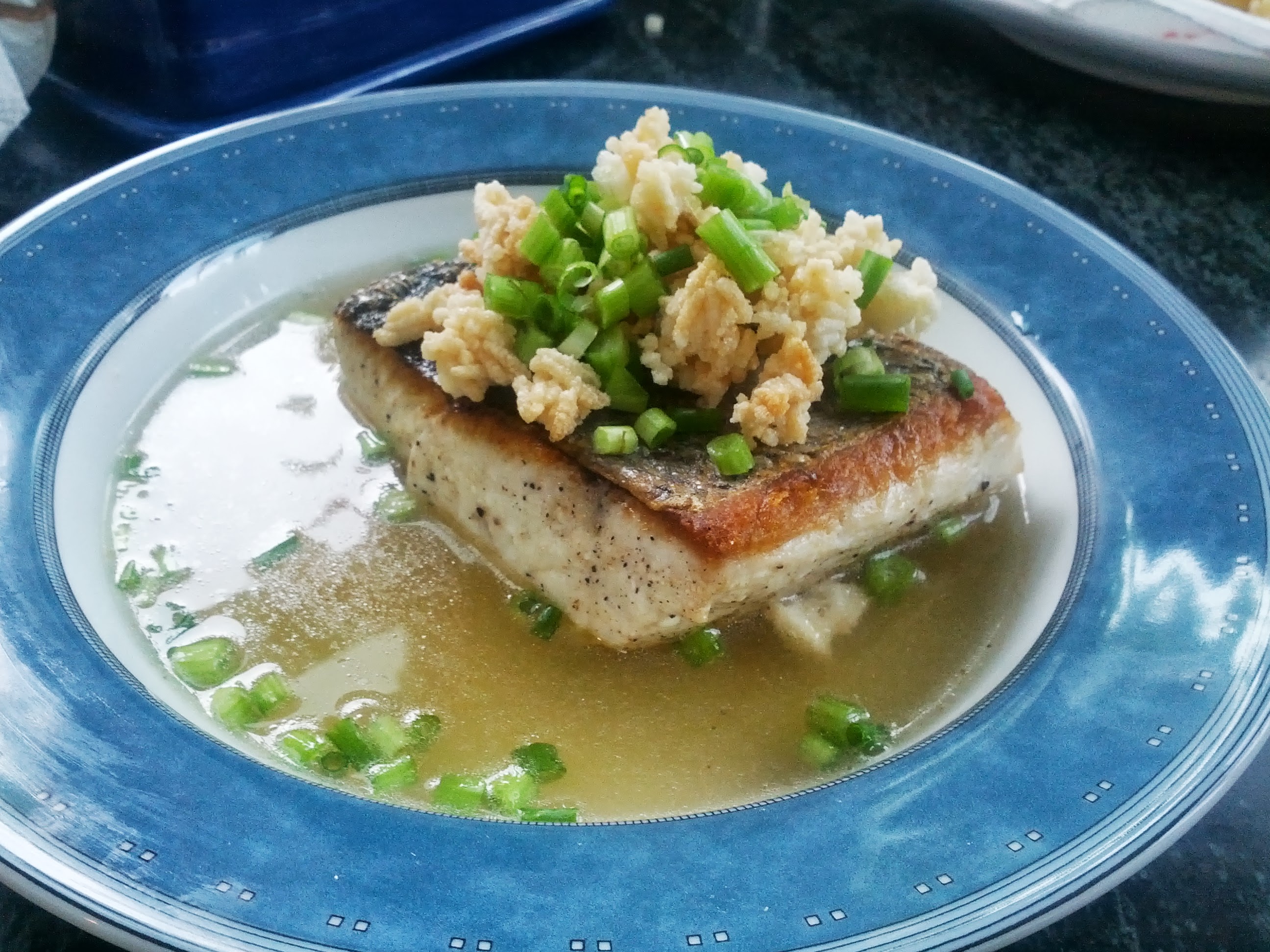 This is one of the best fish dishes I've ever made and it's going to be really hard to replicate! Well, the fish and the rice I can easily do again but the only way to do the broth is to have leftover Pho broth again!
I made pho one day but didn't have beef bones so I used pork bones. So it was:
3-4 lbs pork bones
4″ chunk of ginger (grilled and peeled)
1 onion (grilled and peeled)
2 star anise
6 cardamom pods
four cloves
2 teaspoons sugar
one tablespoon fish sauce
handful of cilantro stems
water
Simmer that for a minimum of 4 hours.
That's what I did the night before for pho. I had a quart of the stock left. I took the leftover broth and added a few inches of chopped ginger and 3 garlic cloves and let it simmer for about an hour.
While that was simmering I also had some rice in the rice cooker. I got canola oil heated until it was almost smoking (~400°) and fried the cooked rice in that until it was brown and crispy. I scooped it on to a paper towel and salted it pretty generously. It tasted like corn nuts but they were rice nuts! Salty, crunchy and awesome.
I heated the oven to 400°. I took the sea bass, scored the skin so it didn't shrink and curl, then put it in a crazy-hot cast iron pan. I left it on the heat for a good long while until I saw the fish was starting to cook up through the bottom. Then I put it in the oven for 5-7 minute to finish the cooking. For the first time, I think ever, I got a nice crispy-skinned fish!
I placed the fish in the bowl, poured broth around it, and topped it with the crispy rice and green onions.
I felt like a master chef.
On the side I just steamed some broccoli and tossed it with soy, a little rice vinegar, sesame oil and some canola oil and sprinkled sesame seeds on top. That wasn't so master-chef-like but my son hates broccoli, he wasn't home, and I fully enjoyed having it!!
I may have to make too much pho broth every time now so I have a chance to eat this again!