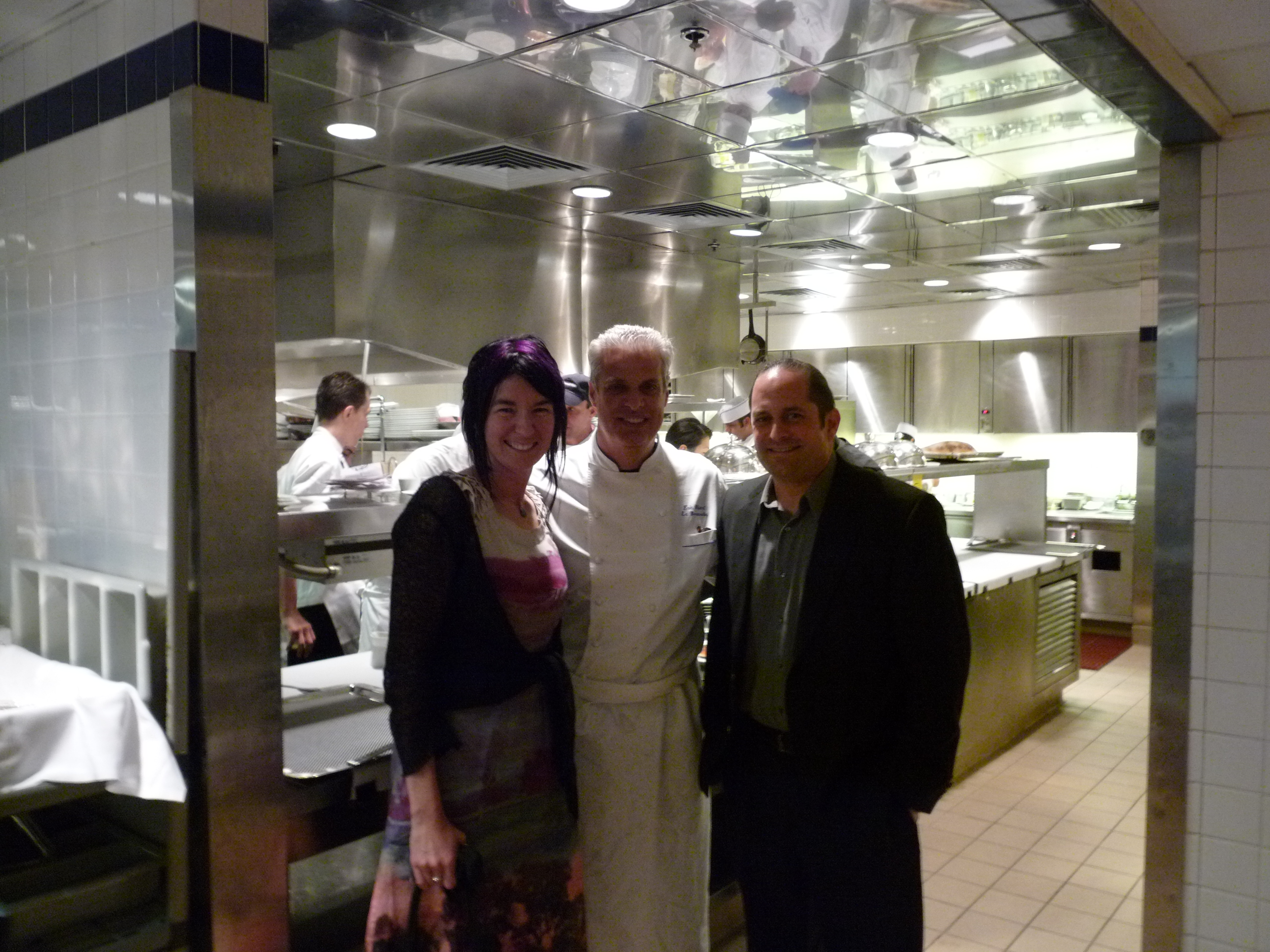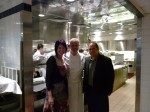 To call this a review would be ludicrous. The meal was perfect. I got to meet Eric Ripert. I was a giddy, squealing '60s Beatles fan girl. You should have seen me! I maintained for my conversation with him but I was jumping up and down once I got outside. I have met many-a-famous-person. I'm a fan girl. I stay after concerts and booksignings in the off chance I'll get to say hi and take a picture. Never has a rockstar or author had this effect on me. I think it's because Eric Ripert does something I would love to do: cook seafood *perfectly*.
We were seated near the kitchen and I immediately asked if I could peek inside. I've made the mistake of waiting until after the meal and the multiple glasses of wine to head into the kitchen and I'm a bumbling, drunk idiot. So, sober tour for me this time please!
Unfortunately, Chef Ripert wasn't in the kitchen yet. But it was such a different space than other kitchens, notably the French Laundry. When we went into that kitchen I felt like if I breathed too loudly, I would ruin a dish. In the Le Bernardin kitchen there was a lot of movement and, not chaos, but constant motion. But the chefs (ranking designated by the blue baseball caps) all looked up and acknowledged us, said hello, looked like they were enjoying themselves.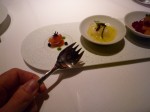 They're enjoyment came through in every bite. First off, I have to say how much I loved coming to a 3-Michelin star/4-NY Times star restaurant and being given a SPORK! How awesome is that?! The star of the first 3 bites was the fluke. In On the Line it states they can't take the fluke away, too many patrons would complain. I agree. I made one of the marinades the other night and it was delightful (I used filet of sole, we don't get fluke here).
Every dish was magic.
CAVIAR – WAGYU
Nebraska Wagyu Beef; Langoustine and Osetra Caviar Tartare
Black Pepper-Vodka Crème Fraîche, Pomme Gaufrette
Champagne Dom Ruinart 1998
The *only* complaint I had of the entire meal was the smokiness of the dashi gelee. I only ate a very small percentage of the gelee on the plate. The gelee itself was fine but the ratio was off to me. If I had all the gelee, it would have been overpowering.
TUNA
Ultra Rare Yellowfin Tuna; Spiced Dashi Gelée
Green Peppercorn – Iberico Chutney
Yuki no Bosha, Yamahai Junmai, Akita
Anytime we go to a fancy-pants place like this, I try to get the waitstaff to relax with us. We aren't uptight. We'd like this food on a plastic table with folding chairs…I don't care about ambiance and rituals. Every course that came out required a new set of silverware. Including the trowel-like knife which never got used because all the fish was like butter. Every time they brought a new one I laughed! Finally I said, "Seriously, leave the knife!" And he laughed as well and said, "I can't, it's my job security, what do you think they're paying me for?!" He was great.
LOBSTER
Warm Lobster in a Rosé Champagne Nage
Currant Tomatoes and Hearts of Palm
Chablis, "Vieilles Vignes", Domaine Savary, Burgundy 2009
SALMON
Barely Cooked Wild Salmon; Asparagus "Risotto", Smoked Pistachio Pesto
Château Grillet, Neyret-Gachet, Rhône Valley 2005
Every dish that came out was amazing but I think the winner of the night was the black bass. It was so wonderfully salty and the mini pork bun was right out of Din Tai Fung in Sydney (my favorite place there!). All elegance and table manners went out the window for me, I was lapping every drop up with my finger.
BLACK BASS
Crispy Black Bass; Lup Cheong and Beansprout
Mini Pork Buns, Hoisin – Plum Jus
Rioja Reserva,Viña Bosconia, Lopez de Heredia, Spain 2003
KING FISH
"Barbecued" King Fish; Marinated Mango and Napa Cabbage
Sancocho Broth
Barolo, Mirafiore, Piedmont, Italy 2007
I cook a lot of fish. At least once if not twice a week. I don't know how he does it. I could take the same ingredients and they would taste good, but not like this. The fish truly is the star of the plate.
CITRUS
Lime Parfait, Meringue, Avocado Purée, Mint, Grapefruit – Tequila Sorbet
Poire Granit, Pear Cider, Eric Bordelet, France
CHOCOLATE-TEA
Dark Chocolate Cremeux, Cocoa Pain de Genes, Earl Grey Tea Ice Cream
Pineau des Charrentes Cask No. 2, Paul Marie & Fils
After the meal, my husband wanted an after-dinner drink so we migrated to the lounge to free up the table. They brought us, what I later found out, is a signature dish of theirs, the chocolate-caramel Egg. It's in my cookbook but I've literally never looked at the dessert section…not my thing. I was so full at that point but the egg was also amazing (tired of that word yet?)
It was then that Chef Ripert walked by…I said hi and that's when the giddiness hit. I was happy with that but my husband asked the maitre d' if we could meet and take a photo with Eric. They escorted us back to the kitchen and there he was…just standing there. Squeee! He was so incredibly nice and accommodating. I got to tell him I'm a huge fan, not from Avec Eric or the appearances on Top Chef but from his cook book. Once I started making his recipes I became a big fan. He turned to my husband then and said, "So you get the benefit of this then?" :)
Then he had us move over for a picture so we'd have the kitchen behind us. The photo is now one of my prized possessions. And we got to tell him we'd be seeing him at his Cayman Cookout event in January (on my birthday!). It's going to be the most amazing birthday EVER!
I know I put the picture at the beginning of the post but it's worth a second look…it's me with ERIC RIPERT!!!