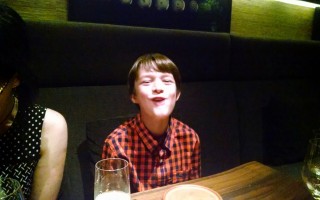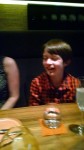 The first time we went to Coi in August was a romantic dinner for our 15th wedding anniversary. We were blown away, it was delicious. The GM, Zion, after we were apparently drunkenly bragging about how adventurous of an eater our 10 year old son is, said we should bring him, they would modify the menu for him if need be. Well, we were planning on having a nice dinner there around, maybe, Christmastime.
On Friday, my husband said that it was too bad that our friend Tom didn't get to go to Coi before he flew back to Sydney. "When does he fly home?" I asked. "Tomorrow morning," my husband replied. "We don't have plans tonight," I added. So, in response to Zion's generous offer for our son, we're going to show up, with 4 hours notice with a vegetarian (Tom) and a 10 year old. THANKS! I talked to Zion before we committed to the reservation, I didn't want to blindside them and wanted to make sure they knew they could tell us we were nuts and too difficult on that short of notice. He basically told me BRING IT ON!
I couldn't pick my son up early from school (that didn't seem appropriate!) but I did decide to drive up and get him and not wait for his carpool. I got him right as they walked out of class and he announced that he'd won his class election for Treasurer so we should celebrate. I said, "That's great! Congratulations!! How about we celebrate at Coi?!" He thought I was nuts and was totally game. We sped home, grabbed my hubby, jumped back in the car and scooted up to San Francisco. I knew my son would be in shorts and a t-shirt from school so I threw dress pants, a button up shirt and some not-so-grungy shoes in the car. He changed there. Luckily traffic was minimal for once and we got to our hotel at 5:30, hopped in an Uber car and made it to Coi just in time. Zion greeted us at the door, Tom made it up from work and we proceeded to have our minds blown once again.
I fully admit, this really isn't going to be a review of the food, I've done that, this is more about the experience of sharing something as magnificent as Daniel Patterson's menu with our son.
Ben trotted in wearing his orange and blue plaid shirt, pin-striped dress pants and chartreuse shoes, hungry and ready to go. He checked out the menu and immediately declared that it looked AWESOME. The first thing we got was one of his favorites: salty grape ice. He was stoked from the first bite. Then came the smoked egg with caviar and creme fraiche and he finished his then the last of mine too!
There were many highlights for him but he couldn't stop raving about the geoduck. I'd told him the story about the first time I'd had it at Sooke Harbour House on Vancouver Island and how I thought it was cucumber and got quite a surprise to get a chewy, fishy mouthful. When I went over the menu with Zion, this was a dish he was concerned about. I assured him that Ben will eat most anything raw from the ocean. I was right. He devoured it and wished there was more.
The only thing that may have edged out those three dishes was the bread. Ben declared, "I could eat this bread for DAYS." Yes, me too. Me too. But then we'd be too full. There were many courses to go. He did so amazingly well. For every course they'd bring us new silverware and Ben would get excited, predicting what dish that meant he was getting. "Oooh! A knife! That means we're getting the beef!"
The only things he didn't like were the corn pudding dish, which he tried a few bites of but just couldn't get into it…Tom finished that for him with no argument. And the cauliflower sides with the beef. I have to admit, I didn't like the cauliflower. I keep trying to like cauliflower. It seems so innocuous. But it's so cauliflower-y. I guess Ben got those tastebuds from me. The beef, however, was a thing of beauty. It had just the slightest sear on it, so slight, I don't even know how they got that so perfectly even.
Even though our dinner started at 6pm, he'd been at school running around in the crazy heat all day and winning his election. He was getting tired but powering through. Dessert was a good motivator. He gobbled that up and when all was said and done, he asked the waiter for another bowl of the grape ice to finish off the evening. Who can say no to that?! They didn't, he got more. He was so stoked.
The evening concluded with a tour of the kitchen for Ben. He went in with Zion and saw the pastry chef chopping pistachios for the topping of the poached pear dessert. He saw chefs plating the beet dish with tweezers. He thought that was pretty cool. I'm so happy we are able to share experiences like this with our kid. I know we are insanely lucky to have the opportunity to expose him to such opulence but also making sure he understands the hard work that goes into a meal like that.
Thank you to the entire staff at Coi for making this such a memorable evening for all of us. They really went above and beyond what most fancy-pants restaurants in their league would do. They were fantastic and we appreciate their efforts and their skills.
We'll hopefully be seeing them again soon ;)